What Are Seamless Gutters? 3 Benefits and Applications
Gutters are an essential part of your home. They protect your house, its structure, and your belongings from costly water damage. So, it's important to make sure that you have the best gutters for you and your property. Regular gutters, or gutters that are split into sections, do their job well. However, seamless gutters are also an excellent option and provide a variety of advantages.
What Are Seamless Gutters?
Are you wondering what seamless rain gutters are? As the name suggests, the gutters are seamless on your property. They are made of one, single piece of material instead of being split into sections. As a result, they have no joints or seams that require sealing.
The only joints you will find are in the corners and on the downspouts. Seamless gutters are typically made from materials such as painted aluminum, copper, zinc, or steel.
Regular Gutters
Regular gutters are sectional, manufactured in short, pre-cut sections that need to be assembled together and sealed to prevent leaking. They require a little more maintenance in comparison to seamless gutters because the sealant used can last anywhere from one to five years. Traditional gutters also need to be re-patched, re-sealed and cleaned more frequently to prevent blockage and overflow.
Regular gutters are generally made of:
Aluminum
Vinyl
Galvanized steel
Stainless steel
Copper
Advantages of Seamless Gutters
Are seamless gutters an upgrade from regular gutters? Here are some of the reasons that you should make the switch.
1. Less Prone to Water Leaks
Since there are no joints, that means there are no leaks coming from them. You can skip all of the maintenance of replacing the sealant.
They also offer better overall protection from water, as there are no weak points in the gutter system. There is a much smaller chance that seamless gutters will sag or pull away from the house if they are maintained as they should be.
2. Long Life Cycle
Seamless rain gutters can last over 20 years with minimal maintenance. The lifespan of regular gutters typically ends at 20 years, and that is with a higher level of maintenance required.
3. Improves the Appearance of Your Home
Seamless gutters add a sophisticated touch to your home. They are extremely aesthetically pleasing with no joints, meticulous customization to your house, and smooth appearance. Additionally, because they require less maintenance, the odds of having unpleasant-looking sagging, leaking, or overflowing gutters are very low.
Read More: What Are the Main Causes of Loose Gutters on Homes?
Disadvantages of Seamless Gutters
Seamless gutters have some serious advantages, but they also come with some drawbacks.
1. Expensive
The upfront costs of seamless gutters can be costly. You have to pay for extra labor to create gutters that are custom-fitted to your home, making them more expensive than regular gutters.
For an aluminum seamless gutter, it can cost about six to thirteen dollars per foot. Conversely, regular gutters cost about five to ten dollars per foot. However, the investment will most likely pay off in the long run as seamless gutters last longer and don't require as much maintenance.
2. Seamless Gutters Will Need to Be Custom Cut
Seamless gutters need to be custom-fit to your home. It's a little easier and less expensive to access regular gutters, as cutting gutters requires a professional-grade machine that only professionals have and know how to use safely.
3. Any Repairs Will Involve the Entire Gutter
Since seamless rain gutters are not cut into sections, any repair or replacements you do will involve the entire gutter. Seamless gutters will generally require fewer repairs, but when they do happen, they are more of a hassle and can be more costly than just replacing or repairing a smaller section of gutter that can be isolated.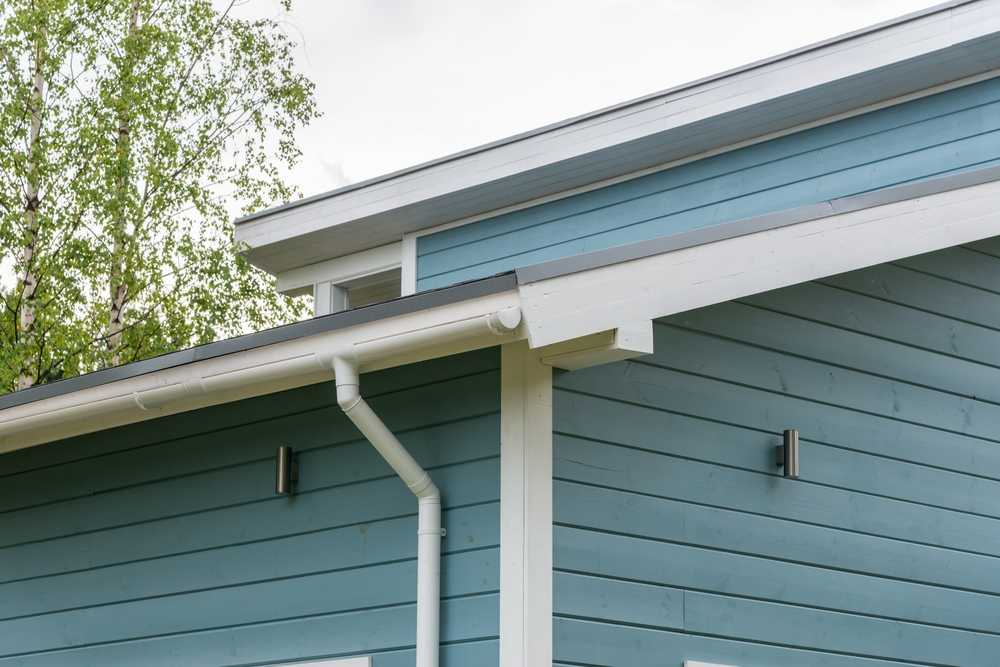 Popular Seamless Gutter Designs
While having to have your gutters custom cut for your home is more pricey, they are much more aesthetically pleasing and can come in a variety of designs that are customizable to suit your style.
Since many seamless gutters are made of aluminum, they are easy to paint and can match the color scheme of your house. There are three different styles of seamless gutters that are popular.
K-Style Gutters
K-style gutters have flat bottoms with a decorative edge on the front side that is reminiscent of crown molding. The edge may be in a curve or an ogee shape, based on your preferences. K-style gutters are most popular in modern homes as they are so attractive and easy to install.
Read More: Gutter Systems – Box Miters vs Strip Miters
Half-Round Gutters
Half-round gutters are shaped like a trough, or a half-tube. These types of seamless rain gutters are generally found on older homes, particularly those constructed in the 1960s or earlier. While they have a gorgeous historical aesthetic and have decorative brackets added, they are a little more prone to clogging than the other styles.
Box-Style Gutters
Box-style gutters are tucked into the roof's shingles instead of being installed on the edge of the roof. They are more commonly found on commercial properties for a more industrial look. They are more oversized than the others and are capable of handling excessive water, making them a great option for areas that have a lot of snow and rain.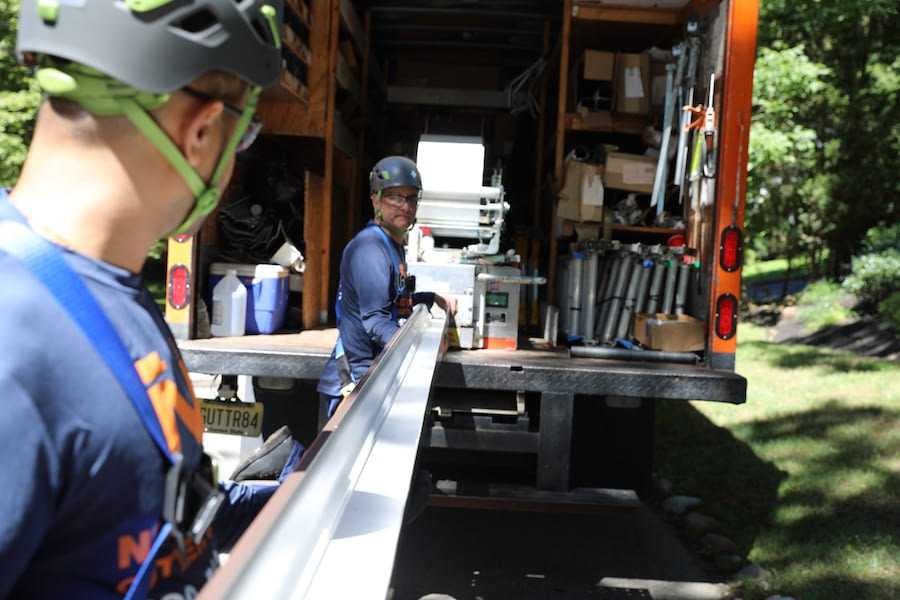 Expert Gutter Installation and Repair Services
If you want to improve the appearance of your house with seamless gutters, give our professionals a call at (888) 616-3307 to schedule your services. Our team of technicians offer custom gutter installation services in Denver, CO and are committed to working with you to upgrade your rain gutter system.
With our thousands of five-star reviews and an A+ rating from the Better Business Bureau, you can trust that we will take care of your gutters professionally, efficiently, and with results that will exceed your expectations. Our staff have the skills necessary to provide you with superior gutter installation and gutter repair services for homeowners in your local area. We have a 100% satisfaction guarantee on your services.
For your convenience, we are open seven days a week with live representatives available 24/7. Our scheduling is stress-free, with same-day services available.