How Many Downspouts Does Your Home Need?
Downspouts are an essential piece of a gutter system that is easy to take for granted. However, just like with the gutters, downspouts can have issues that can leave your house vulnerable to water damage, as well. To prevent damage to the foundation of your house, it's important to install the correct number of downspouts on your property. Let's discuss what downspouts are, how many you need, and what problems can arise.
Downspout Options for Your Property
A downspout is the part of a gutter that drains collected rainwater away from the foundation of a home. Its purpose is to prevent the gutters from overflowing and avoid water damage by ensuring that the water is directed away from where it could cause harm. However, there are a number of factors that go into choosing the correct downspout and where they need to be placed.
Correct Number of Downspouts for Your Gutter System
How far apart should your downspouts be on your gutter system? Your gutters should have a downspout around every 30 to 40 feet. This typically means installing downspouts at both ends of a gutter section. Although there are some factors that can affect the total number of downspouts you need for your house.
Roof Area
A larger roof means that more rainwater will be caught and funneled into the gutters, making it necessary for more downspouts.
Roof Slope
A high slope speeds water toward the gutters, and if it is too much for them to handle, an extra downspout can alleviate this problem.
Gutter Size
Larger gutters can hold more water and won't need quite as many downspouts. If your gutters are small, they will need more downspouts to compensate.
Read More: How to Choose the Correct Type of Gutter Hangers
Climate
If you live in an area with heavy rainfall, that will put more pressure on your gutters and may require more downspouts.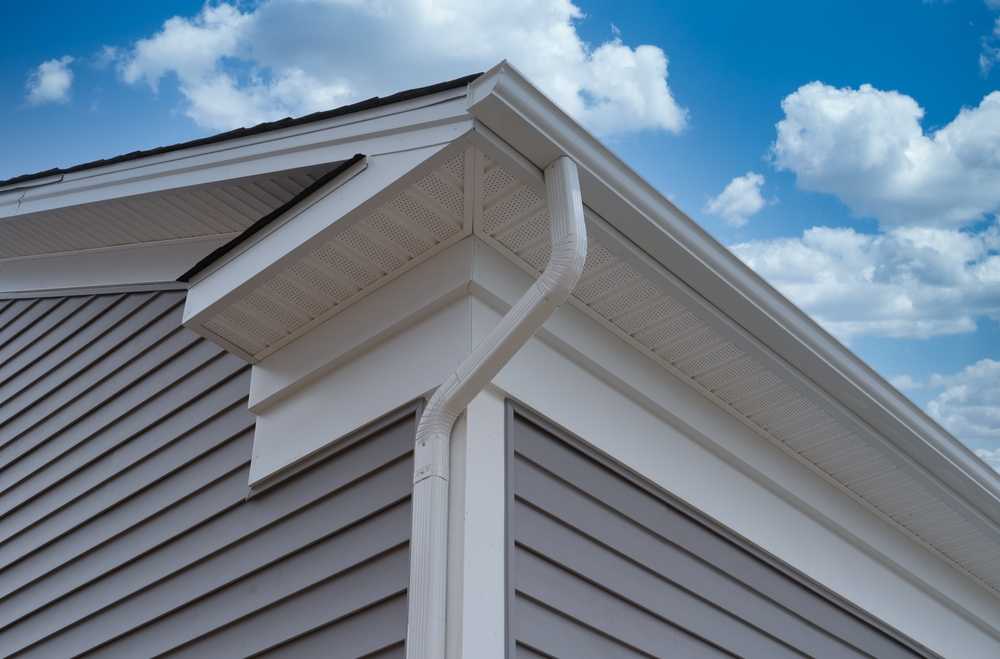 3 Different Types of Downspout Issues
1. Clogged Downspouts
Clogged downspouts and clogged gutters both have the same problem: too much debris buildup. Leaves, twigs, and other debris can gradually build until they cause clogged gutters and disrupt the flow of water. While debris obstructions are not easy to spot, you can look for the indications that they are there.
Overflow
Your gutters should never be overflowing, except in rare cases of unusually heavy rainfall. If your gutters are free from clogs and are still overflowing, then the clogs are most likely in the downspout.
Leaks
When there are clogs in your downspout, it can exert pressure near the seams. If the sealant on your seams is old or worn, it's possible that it can be dislodged by the water in the downspout, resulting in the seams leaking.
Runoff
When it's raining, and the runoff seems weak or nonexistent, then it may be the case that there is a major blockage in the downspout that is causing the water to bottleneck. To test for this, you can tap along the downspout, and listen for any different sounding spots. The areas with blockage will have a different noise.
Read More: Will Installing Downspout Extensions Help Improve Gutter Drainage for Your Home?
2. Narrow Downspouts
It's very rare for a downspout to be too narrow for the gutter system if they were constructed correctly. However, this issue can occur if there was a miscalculation during construction.
There are three factors that need to be considered when sizing gutters and downspouts.
Roofing Square Footage
This is the area of the roof. Professionals may have to measure this area manually if this information isn't available in the roofing installation plans.
Roof Pitch Factor
The steeper your roof is, the more rainwater that will be collected. The gutters and downspouts will need to reflect that.
Maximum Rainfall Intensity
Contractors will take into account the climate in your location. If the local area tends to have heavy rainfall, the gutters and downspouts will need to be prepared to handle that.
3. Frozen Downspouts
Ice and snow can easily accumulate in your gutters in the winter. This can slow the flow of water in your gutters or block the mouth of the downspout. This can cause standing water, which will freeze in the elbows and joints.
If this is a consistent issue, it would be beneficial to salt the ground around the downspout and call a professional to check your gutters before winter starts.

Gutter Installation Services for Homeowners
If you are in need of a gutter upgrade or installation solutions, reach out to our highly skilled team to determine the best option for you. We provide top-tier gutter installation services in Levittown, PA, as well as comprehensive gutter repair and cleaning. It's essential to take care of your gutters all year round with regular gutter cleaning, maintenance, and repair to prevent expensive water damage to your home.
At Ned Stevens, our customers' happiness is our number one priority. With over 2,000 five-star reviews and an A+ rating from the Better Business Bureau, Home Advisor Elite Service Status, and Angie's List Honor Roll, you can ensure that we will keep your gutters in peak condition with service that exceeds your expectations.
Our gutter cleaning and maintenance company is open seven days a week and has same-day scheduling available because we know how quickly gutter problems can turn into water damage. When you need us, we will be there. Reach out to our professionals by phone at (888) 616-3307 to receive support with clogged gutter downspouts on your property