5 Best Gutter Materials and Benefits
Most people don't think too much about their gutters. However, you may be surprised to learn that your gutters are largely responsible for preventing water damage to your property.
By installing the proper gutters, you will avoid flooding, structural damage, mold growth, and all the other unpleasant factors that come with water damage. However, you may be wondering about the best gutter materials for your home. While there are a variety of gutter materials, some are more durable than others. This guide will teach you about the 5 best gutter materials and their benefits. Keep reading to learn more.
Popular Gutter Materials for Homes
The most popular gutter materials are wood, zinc, vinyl, aluminum, and galvanized steel. While each of these materials have their advantages, it's important to weigh out the pros and cons of these materials to ensure you choose the best material for your home.
1. Wood Gutters
Wood gutters give your home a vintage feel, which is why you will usually see them on historic properties. While these gutters are attractive to the eye, the downside is that they require more maintenance than other types of gutters, such as stain and paint treatments as well as water-resistant oil for the inside. They are also more prone to rotting in comparison to other types of gutters, which is something to keep in mind.
2. Zinc Gutters
Zinc gutters are the best material to choose if you want to perform minimal maintenance. This is because these gutters are completely rust-resistant and protected against cracks due to their self-sealing patina. Since these gutters are high-quality, you can expect to have them for around 80 years depending on the local climate.
3. Vinyl Gutters
Vinyl gutters are super easy to install and last between 10 to 20 years. These types of gutters are made from plastics and PVC. If you happen to reside in a climate with frequent rain and moisture, vinyl gutters probably are not the best idea, as they have a tendency to deteriorate.
Read More: Signs of Loose Gutters on Your House and How to Respond
4. Aluminum Gutters
Aluminum gutters are lightweight, rust-resistant, and last between 10 to 20 years. The installation process for aluminum gutters is so simple that many people choose to do it themselves.
5. Galvanized Steel Gutters
Galvanized steel gutters are the most difficult type of gutters to install and require professional installation services. This popular material for gutters can last 20 to 30 years due to its durability and is perfect for those who live in wet climates. The only disadvantage of galvanized steel gutters is that they can rust over time.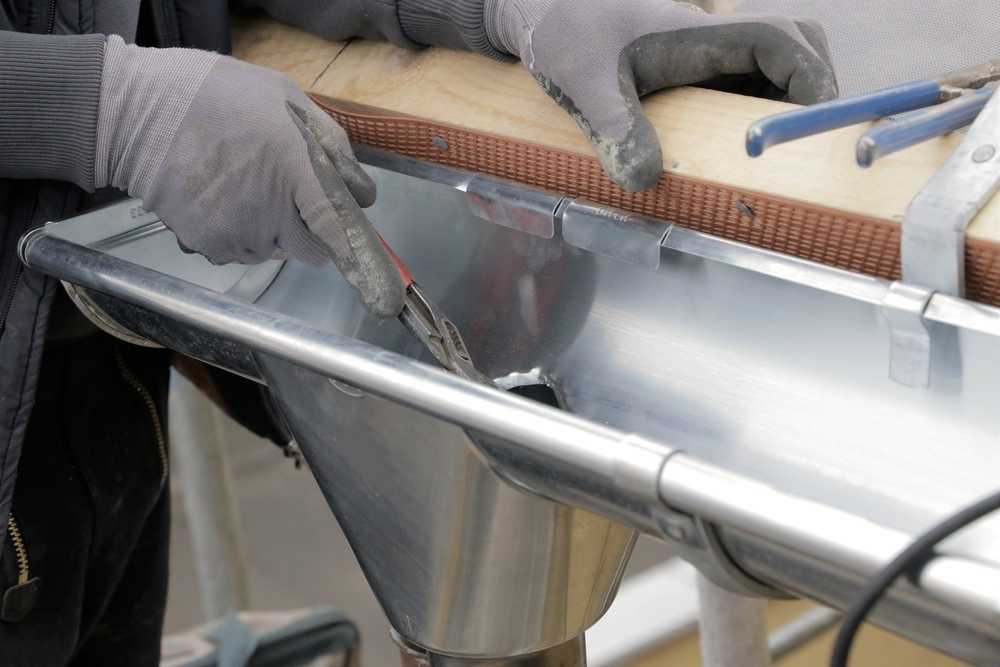 Gutter Components
It's also important to be familiar with the components of your gutters. These main components include downspouts, downspout elbows, end caps, hangers, mitered corners, and sections.
Downspouts
The downspouts of your gutters face vertically down your home. Their job is to bring water from your roof into a designated area.
Downspout Elbow
The downspout elbow works with your downspouts to push along the water. It is located at the bottom of your gutter and appears in the shape of an elbow.
End Caps
The end caps are made up of metal and seal the ends of your gutter.
Mitered Corner
The mitered corner is the component that sits at the corner of your roof.
Section
A "section" is the measurement term used to measure your gutters.
Read More: How to Choose the Correct Size Gutters for Your House
Tips for Maintaining Rain Gutters
Hire a Professional to Clean Your Gutters
Cleaning your gutters is the #1 way to maintain your gutters and prevent water damage. While you may think you can clean your gutters on your own, it's always important to hire a reputable gutter cleaning company to get the job done.
Perform Inspections for Clogs in Your Downspouts
Sometimes, your gutters may be clogged without you even knowing it. A good way to check if your gutters are clogged is to spray a garden hose into the gutter and observe the way the water flows and if there is any noticeable debris.
Conduct Maintenance
It's important to regularly observe your gutters for signs of damage. If you aren't sure, it doesn't hurt to hire a professional gutter repair company to confirm. Cracks, holes, and rusting are all signs that your gutters need maintenance.
Invest In Downspout Extensions
Downspout extensions provide an extra layer of protection for your gutters. These consist of tubes that attach to your downspouts. The purpose of downspout extensions is to keep heavy amounts of water away from your home to prevent flooding and structural damage.

Receive Gutter Cleaning and Repair Services at Ned Stevens
If you need assistance fixing your damaged gutters, give our staff a call at (888) 616-3307 to get a free quote. Our team offers trustworthy gutter cleaning services in Atlanta, GA and other areas. In addition, we offer other reputable solutions including gutter repair and gutter installation. We pride ourselves on our same-day scheduling to carry out your gutter cleaning and repair as soon as possible.