Gutters: Strip Miters, Box Miters, and Applications
Most people are familiar with gutter systems, but not as many are aware of the miters that are in them. Miters are the corner sections of the gutter that direct the accumulated water around the corner and make it so that you don't need downspouts on each corner of the house. The gutter system on a home can be integrated with two types: box miters and strip miters. To help you choose the correct gutter system for your property, we have created a guide that discusses the differences between strip miters and box miters.
What Are Box Miters?
Box miters, or pre-manufactured corners, come in a single piece that gets attached to the guttering runs. Box miters stick out and are more noticeable than strip meters on a house. They need to be sealed and fastened on two or three seams. Box miters are a popular choice for homes because they are easy to install.
What Are Strip Miters?
Strip miters are considered to have the more seamless design of the two. They only require one side to be sealed. Strip miters for gutters utilize aluminum that has been bent to 90 degrees. Rivets and screws are used throughout the installation process to ensure the strip miters are secured to your property.
Box Miters Installation Process
With box miters, there is no need to cut or create them, since they are already pre-formed.
Instead, you need to:
Double-check that you have the right size miter for your gutters
Connect the miter to the gutter with seamers or a slip joint connector for a secure fit
Seal two or three seams, depending on the cut of the miter, to prevent leakage
Secure the screws and pop rivets to attach the box miter firmly to the gutter system
Read More: Top 5 Gutter Materials for Homes and Ways to Choose
Strip Miters Installation Process
The first step to installing strip miters is cutting them.
This includes:
Making sure that the gutter machine is already loaded
Verify this by jogging the coil through until the end is located at the first run
Ensure that the gutter cut is at a 45-degree angle
Secure the strip miter to the back of the gutter only while working to guarantee that the next piece of the gutter will fit easily into the miter
Maintain the ability to make adjustments without compromising the integrity of the gutter
The second step is the actual installation.
This entails:
Starting to attach the gutter that holds the strip miter to the house
Ensuring that the gutter slopes toward the downspout
Attaching the next gutter run into the house, making sure that the edge of the gutter is aligned to where the strip miter covers both equally
Once they are all completed, fasten the miter to the front and back of each gutter to make sure that they are sealed well
If necessary, do this on the bottom, as well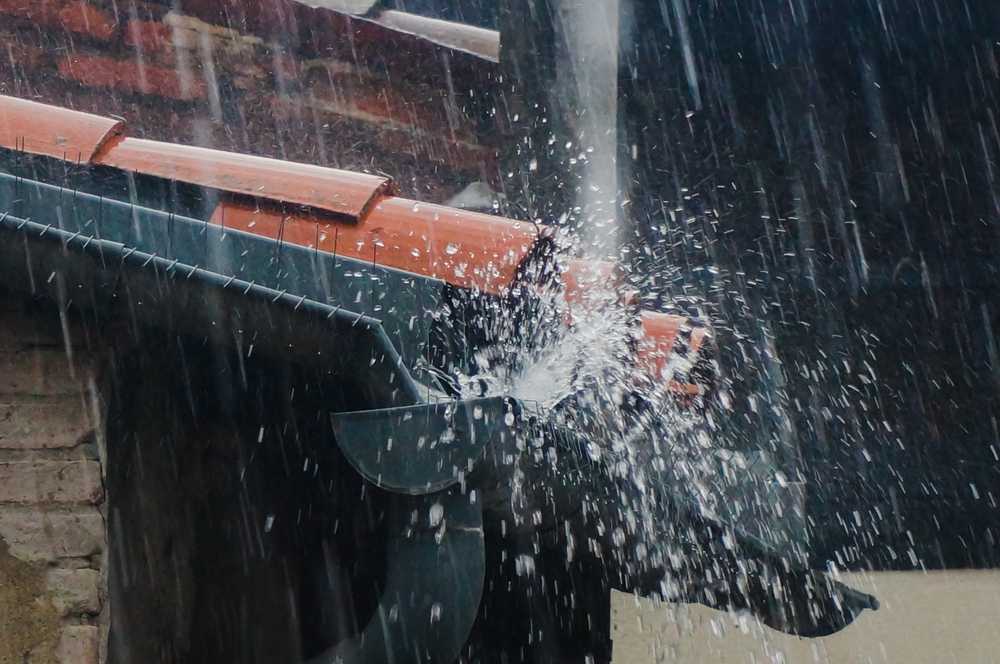 Signs Your Gutter Miter is Leaking
Like with many practical aspects of a house, there can be issues with gutter miters. The key is to get ahead of it and check for signs of any malfunction. In the case of gutter miters, it's important to check for leaks during rain or directly after.
To check, walk around your house and look up to each corner. If there is water pouring or leaking from the miter, then the miter most likely needs to be resealed. However, this can be misleading if you have clogged gutters or a downspout near the miter, as it can make it appear like the miter is leaking when it's not. If you see this happening and the miter appears to be intact, there is either a downspout near or it's possible that you need to have your gutters cleaned.
Top Causes of Gutter Miter Leaks
There are a couple of reasons that could cause a miter to leak. These are the most common.
Sealant Failure
One of the top reasons is simply that the seal has worn out. Most sealant that is used in gutter systems typically lasts anywhere from one to five years. If there is a higher amount of water than the average that goes through your gutters or if they are in direct sunlight, the sealant can break down more quickly.
Corrosion
Another usual cause for miter leaks is rust. Since many gutters are made of aluminum, rust is uncommon on gutters, but it is more likely to happen in the miter corners.
Fortunately, it is easy to see when rust starts to form on your gutters or miters. On rare occasions, it can form on the inside, but it is typically visible on the outside. If there is a rust hole and water is flowing out of it, you will need to replace the miter. If you try to fill the hole, it will still continue to rust and create an even larger hole.
Incorrect Installation
It's essential that knowledgeable experts install your gutters and miters to avoid the next cause of leaks: incorrect installation. If it was done by a nonprofessional, it's possible that the miters were not placed properly, which can cause leaks fairly quickly.
Read More: Signs of Sagging Gutters on Your Property and How to Fix
Not Performing Maintenance
Not keeping your gutters well-maintained can cause a myriad of problems. They can become clogged or damaged, and the fascia board behind the gutter can become rotted.
Getting your gutters cleaned regularly is essential to avoid leaking of any kind, as well as water damage in the home, damage to the gutter systems themselves, and pests that can be attracted to decomposing debris.
Damage
Even when your gutters are well-maintained, damage can happen from outside sources. For example, a storm could cause falling branches that dent the gutters, which would require the entire gutter and miters to be replaced. If your gutters are damaged in any way, there is a high chance that they will not function properly. The best move is to call a professional to see what needs to be repaired and what needs to be replaced.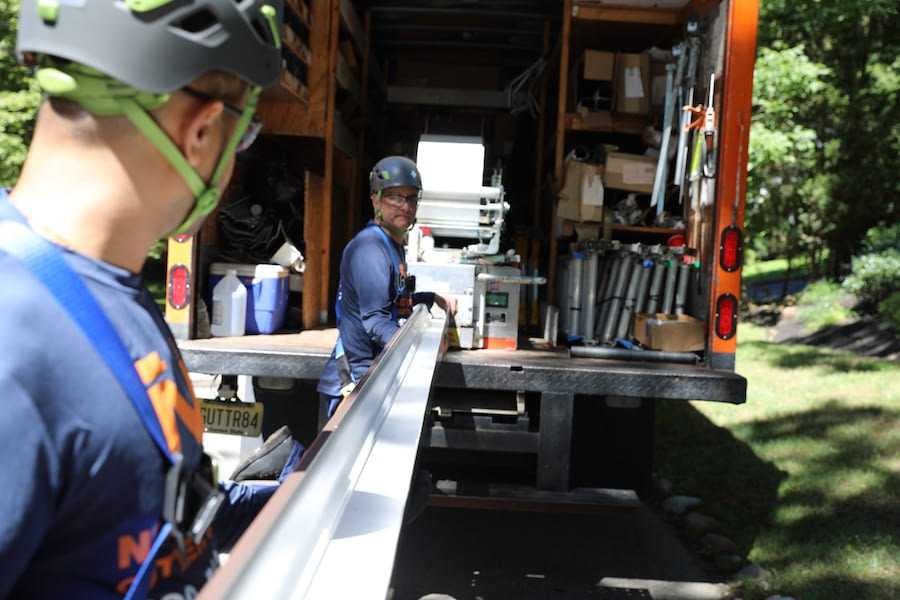 Expert Gutter Installation, Replacement, and Maintenance Services
If you notice damaged gutter miters on your home, give our professionals a call at (888) 616-3307 to receive support. Our team offers reputable gutter cleaning services in Elgin, IL and has the tools necessary to fix malfunctioning gutters in your property. Our high-quality work has earned us thousands of five-star reviews and an A+ rating from the Better Business Bureau.
If you're in need of top-of-the-line gutter cleaning or gutter installation services, hiring the staff at Ned Stevens is the smartest choice you can make. You can trust that we will not only satisfy all of your gutter needs but exceed expectations. To ensure this, we have a 100% guarantee on all of our work.
For your convenience, we have live representatives available 24 hours a day and are open seven days a week. Scheduling is easy and stress-free, with same-day appointments available. Give us a call at (888) 616-3307 to learn about our service plans, or get a free quote today.