Gutters are an essential part of any property. They are responsible for collecting water and directing it away from the house. However, if they are damaged or clogged, the water will have nowhere to go other than inside the house, potentially causing costly water damage to the ceiling, walls, and floors. It's vital to keep your gutters well-maintained and free of disrepair to avoid not only the added expense that water damage causes, but also the potentially hazardous conditions that water damage can create.
One of the most common issues that can occur to gutters is that they can start to sag, leaving them dysfunctional and leaving you vulnerable to damage to your home. To help you prevent damage in your living space, we have created a guide that discusses the causes and signs of sagging gutters. We have also created an outline of how to fix gutters on your property.
Top Causes and Signs of Sagging Gutters
Causes
Sagging gutters can be caused by a variety of factors, such as trapped debris that weighs too much, clogged downspouts, heavy snow or ice dams, inefficient installation, or gutters that do not fit correctly.
Signs
Indications of sagging gutters include gutters being bowed, cracked, or bent. Other signs include water overflowing, pooling water around the foundation of your house, or gutters pulling away from your roof.
How to Fix Sagging Gutters on Your Property
If you notice any of the signs of gutter sagging, make sure to act immediately. The condition of your gutters can quickly devolve, triggering costly damages and repairs. Here are some potential solutions:
Remove Debris and Clogs
One of the main causes of sagging gutters is simply that they are clogged with water and debris that is weighing them down. The first step to fixing your gutters is to remove all of the debris as thoroughly as possible with the use of a bucket, gloves, and a ladder.
This includes clearing any clogs in your downspouts, which may require a plumber's snake. This may be enough to solve the problem. To confirm the clog has been fixed, spray a hose into your gutters and see if it's draining correctly.
Fix the Slope
If your gutters still are not draining properly, it's time to look at your gutters' slope. Typically, gutters should slope about one-quarter inch every 10 feet to drive water toward the downspouts. If you find that this isn't the case, you can try moving or adjusting the structural hangers.
Read More: 5 Popular Gutter Materials for Homes
Reinforce the Support
Sometimes, all of the weight of the debris and water can harm your gutter hangers. If this happens, you will need to either tighten or replace them. You will require a screwdriver to tighten the existing gutter screws. Additionally, you could add extra gutter hangers, gutter brackets, or straps for extra support to the sagging area of the gutter.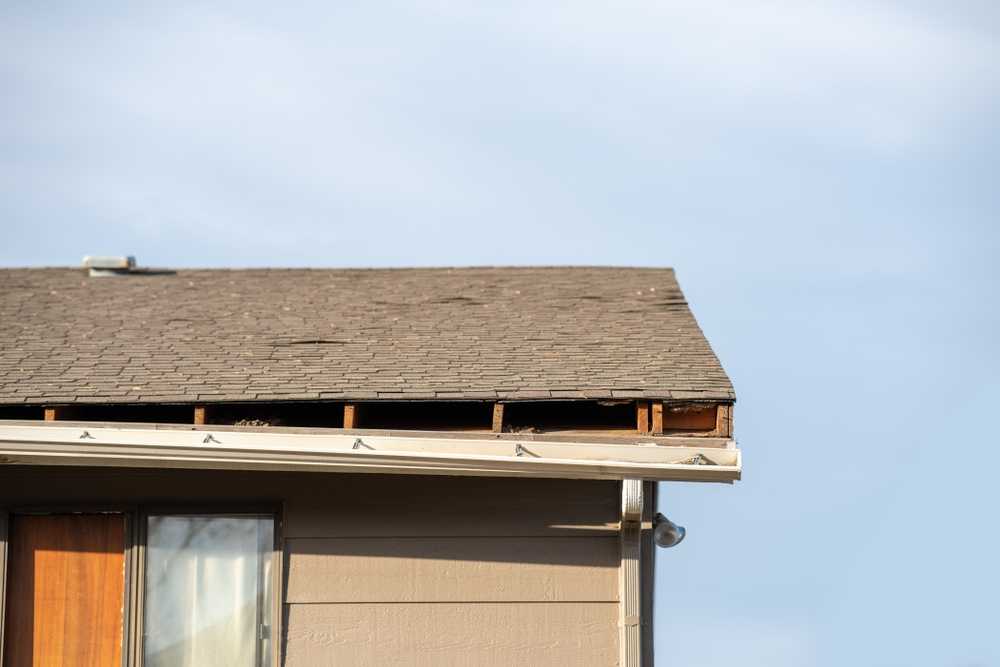 Buy a Downspout
A possibly simple solution is to purchase a new downspout and install it in the area where the sagging is occurring. A newer downspout will be able to drain water more efficiently and ease the weight off of the actual gutters.
Inspect the Fascia Board
A fascia board is a long section of wood that closes off your attic and attaches to the side of your home. To fix your sagging gutters, you may need to inspect for loose nails or screws near the fascia board.
Fix or Replace Your Old Gutter Spikes
Gutter spikes are the long spikes that run through the front of the gutter and out the back, attaching them to the fascia board. While generally very durable, gutter spikes can eventually wear down, causing your gutters to sag. This tends to happen during heavy rain or snow.
There are two ways to go about resolving your gutter spike problem:
Fix Them
Place a ladder on the area of your home where the gutters are sagging, and check the status of your current gutter spikes. If they are just a little loose, you can try to nail them back into the wall.
Replace Them
If you see that the gutter spikes are broken, bent, or rusted, they will need to be replaced. Gutter spikes come in sizes by inches, so you will need to measure your current gutter spikes to know which size to purchase.
Next, you will need to remove all of the damaged gutter spikes and install the new ones about every two to three feet along your gutter system. If you live where there is heavy snow, they should only be two feet apart.
Read More: Top Factors to Consider When Sizing Gutters
Replace Your Gutter Brackets
Gutter brackets hook into the fascia board and mount the gutters up. These also need to be checked out to see if they are damaged or broken in the sagging areas. If they are, it's time to replace them.
Here's how:
Use a screwdriver or power tool to pull out the screws holding the brackets to your fascia board
Fill the holes with waterproof caulk and wait for a minimum of four hours for it to fully dry
Use a power drill to drill new holes right above the old ones
Install new brackets into the freshly drilled holes

Expert Gutter Cleaning and Repair Services
If you are in need of expert gutter cleaning and gutter repair services, the team at Ned Stevens is here for you. After having been in the business for over forty years and earning more than 5,000 5-star reviews from our happy clients, you can trust us with all of your gutter needs.
Our technicians offer reputable gutter repair services in Bridgeport, CT and have the tools necessary to fix sagging gutters on your property. Our team is strictly made of fully-insured professionals that have gone through extensive labor training to ensure high-quality services every time.
We have a 100% satisfaction guarantee on services and a 30-day no-clog guarantee on our gutter cleaning solutions. We understand that there can be emergency situations with your gutters, which is why we are open seven days a week, have live representatives available 24/7, and offer same-day scheduling. Call us today at (888) 616-3307 or get a free quote on our website.