Top 5 Types of Gutter Hangers for Homes
Gutter systems are the key to protecting your home from water damage. The essential backbone of the gutter system is the gutter hangers, which attach them to the house. They come in a variety of forms with different strengths and weaknesses. Let's learn about the different types of gutter hangers, how important it is that they are spaced correctly, and what can happen if your gutter hangers are installed incorrectly or damaged.
Different Types of Gutter Hangers
1. Spikes and Ferrules
This type of hanger includes a metal tube called a ferrule, which is driven across and ends at the back of the gutter. It offers reliable security for your gutters. However, since it fastens the gutter to the fascia board, it comes with the risk of wood splitting when the spike is inserted into the fascia. Although, when installed by a professional, they will have the experience to avoid this damage.
2. Brackets
This gutter hanger system is made with a half-round style that wraps around the gutters and attaches to the fascia board. Brackets and straps are well-known for adding strength to the structure and withstanding drastic weather changes.
3. Hidden Hangers
Hidden hangers are recommended to homeowners who prefer a seamless and sleek design. These types of gutter hangers are positioned horizontally inside the gutter and screwed into the fascia board. They are very adept at handling large amounts of water.
Read More: What Are the Applications of 90-Degree Gutter Downspout Elbows for Homes?
4. T-Bar or T-Strap
This gutter system is similar to hidden hangers in its seamless look, but it has a roof strap that is riveted to its middle and nailed to the roof deck, forming a suspension system.
5. Wrap-Around Hangers
Wrap-around hangers are a hybrid of the T-bar hanger and the exposed bracket and strap system. They are well-known for their strength and durability.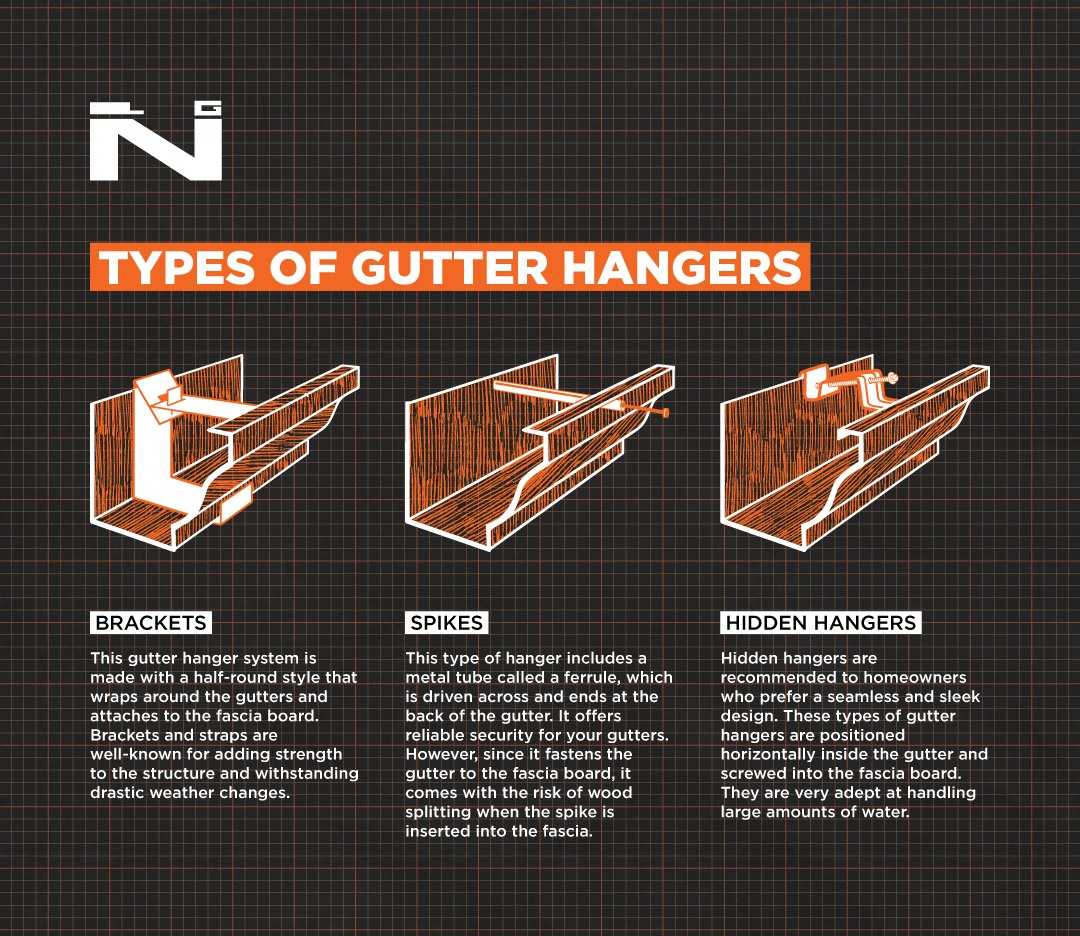 Why is Gutter Hanger Spacing Important?
Accurate gutter hanger spacing is essential to ensuring that the installation succeeds and the gutter system is functional. If there are not enough gutter hangers installed, severe water damage through the drainage system is possible. To determine the best spacing of the gutter hangers when installing gutters, it's necessary to measure exactly.
A professional will follow these rules for installation:
The highest tip of the guttering should be lightly sloped downwards to the downspout
Every 10 feet, there should be an incline of one-fourth of an inch
If the gutters are 40 feet or more, the pitch should begin in the middle to ensure that the rainwater will flow to the downspout and avoid polled water or stuck debris

Consequences of an Incorrect Gutter Hanger Installation
Gutter hangers are absolutely vital to a gutter system, as they hold up both the weight of the gutter and the rainwater inside. If just one gutter hanger is misplaced, there can be consequences throughout the whole gutter system. Most commonly, it can cause sagging gutters on your property.
Sagging gutters usually have a domino effect in your drainage system, since it causes a number of problems that affect the structural stability and appearance of the house. The overflow and constant water dropping will form small pools that can flood your garden or yard. This can make it a breeding ground for pests, posing a health hazard to you and your family.
Read More: 5 Reasons Your Gutters Are Leaking and Ways to Fix
During the rainy season, if your gutters become too heavy with the extra weight of the rainwater, they can collapse completely if the gutters don't have strong and well-installed hangers. This will open up your home to the possibility of costly water damage.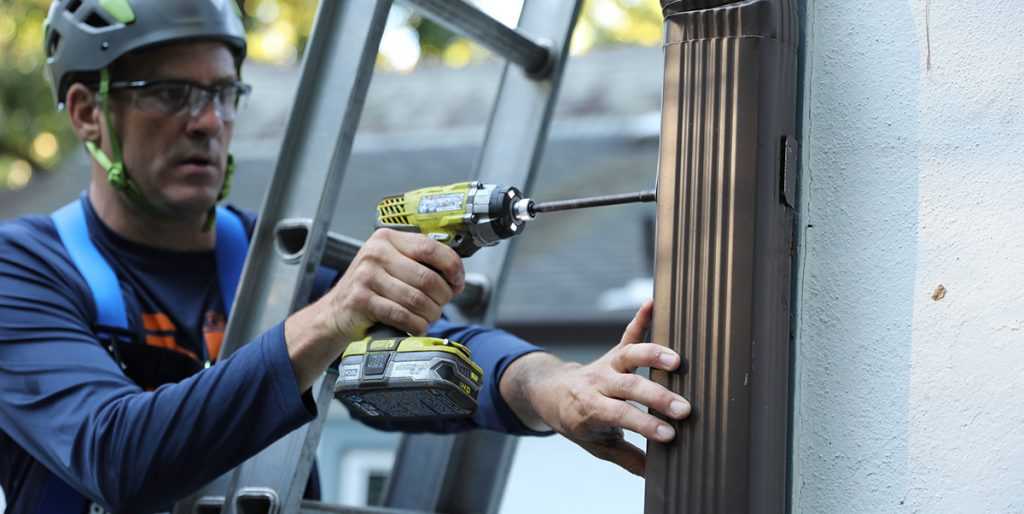 Gutter Installation and Replacement Services for Homeowners
If you are interested in upgrading your gutter hangers or are on the hunt for an upgraded gutter system, give our team a call at (888) 616-3307 to discuss your options. Our skilled technicians provide top-quality gutter installation services in Jersey City, NJ, as well as gutter cleaning and maintenance. It's important to keep your gutters clean and in peak condition to avoid costly water damage in your home.
At Ned Stevens, we put our customers first. With over 2,000 five-star reviews and an A+ rating from the Better Business Bureau, Home Advisor Elite Service Status, and Angie's List Honor Roll, we can guarantee that our services and the results will exceed your expectations.
The staff at our gutter installation company know just how much of an emergency a damaged gutter system can be. This is why we are open seven days a week and have same-day scheduling available so that we can be there exactly when you need us. Don't wait to reach out when it comes to preventing water damage.