Are you looking to install new gutters on your property? You might be wondering about the standard gutter size for homes. Your gutters are responsible for moving water away from your house and into a designated area, which is essential for protecting your property from water damage. The size of your gutters depends on the size of your roof. However, the most common size for most homes is 5 inches for seamless gutters.
How to Calculate Gutter Dimensions
When determining what size gutters your home should have, you will need to first calculate the dimensions. The easiest way is to measure the width of your current gutters. Once this is complete, you can install gutters that match the exact size, material, and shape of your former gutters.
Things become a bit more complicated if you are getting a gutter replacement for your whole system. In this case, you need to take measurements of your roof. Start by calculating the square footage of your roof by measuring the length and width, multiplying each, and then adding up the numbers together.
You will also need to determine the pitch of your roof. Start by placing a level horizontally on the surface of your roof, ensuring one end is in contact with the roof. Next, measure 12 inches along the level starting from the end, touching the roof. You can measure the vertical space between the roof and the bottom of the level to determine the pitch.
Finally, you will multiply the square footage by the roof pitch to receive your final gutter measurement.
What Is the Correct Size for the Downspout?
Without downspouts, water will not flow properly away from your home. When it comes to determining the dimensions of your new gutters, you will also need to ensure that your downspouts are the correct size.
For those with standard K-Style gutters that are 5 inches, 2×3 or 3×4 inch downspouts are typically ideal. If you have 6-inch gutters, you will likely benefit from 4×5-inch downspouts. Overall, you will need downspouts for every 25 to 35 feet of gutter.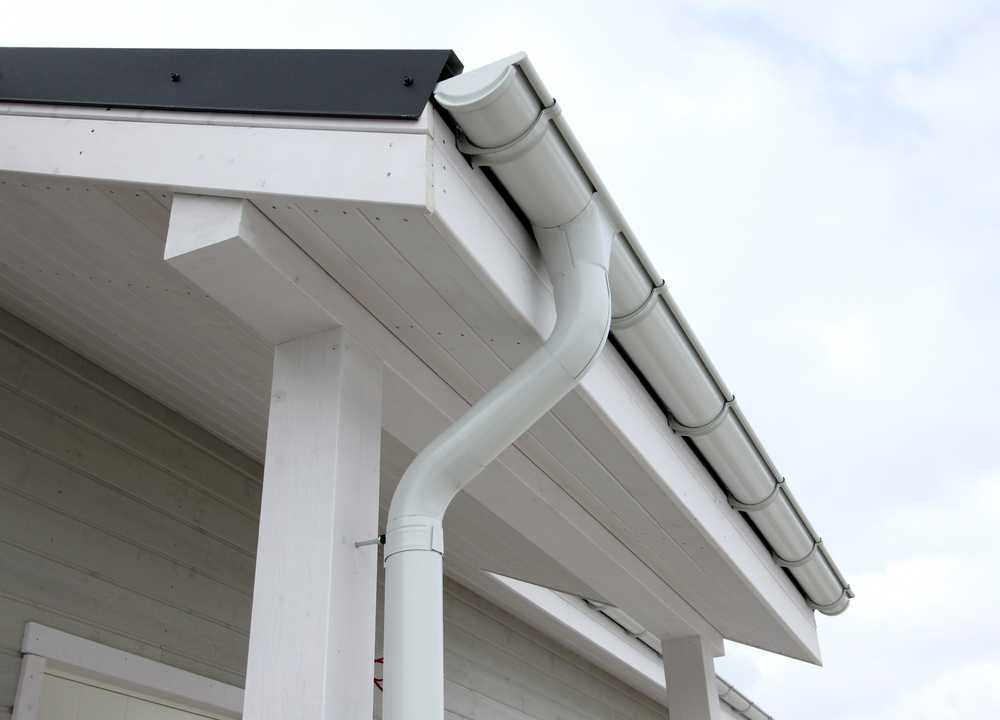 How to Choose the Correct Gutter Style
Not only should you have the right size standard gutters. You also want an aesthetically pleasing style that matches the design of your home. K-style gutters and half-round gutters are the most common gutter types, and each provides different benefits.
K-Style Gutters
K-Style gutters are 5' to 6 inches and are best for roofs that are over 8,000 square feet and downspouts that are 2" x 3" or 3" x 4". These types of gutters are usually found in residential homes and are known for their easy installation, strength, and durability.
One great advantage of K-style gutters is their capacity to handle large volumes of water. This makes them suitable for areas with moderate to heavy rainfall. This design also helps minimize the risk of overflowing gutters, which reduces the potential for water and structural damage to your property.
K-Style gutters are typically made of aluminum, vinyl, or steel, providing durability and resistance against rust and corrosion. 5-inch K-style gutters are the best size for roof areas under 5,500 square feet. If your roof is between 5,500 and 8,000 square feet, a 6-inch gutter is optimal.
Half-Round Gutters
Half-round gutters are usually found on historic homes. These gutters are known for their aesthetic appeal but are not as effective for water removal as K-style gutters. Half-round gutters are typically made from materials such as aluminum, copper, or galvanized steel. They can complement a variety of styles, from traditional to contemporary, making your home stand out.
Half-round gutters come in 5 to 6 inches and cover roof areas that are up to 3,850 square feet. They also work best for houses that have 6" downspouts. If your roof is under 2,500 square feet, the best sizing option is to install a half-round gutter that is 5 inches. If your roof is between 2,500 to 3,850 square feet, you will need 6-inch half-round gutters for your installation.
Factors to Consider When Sizing Gutters
When sizing your gutters, it's important to take other factors into account. Roof pitch and the amount of rainfall your area receives can help you determine the best size gutters for your home.
Roof Pitch
If gutters are not properly designed for your roof pitch, it can lead to water overflowing or pooling on your roof. This could result in severe structural damage to your home or commercial property.
If your roof has a steep pitch, you will need to choose the correct size standard gutters for your home that are designed to handle a larger volume of water in a shorter amount of time. In this case, 6-inch gutters are most optimal.
If your roof has a low or flat pitch, water tends to accumulate and drain more slowly. In this situation, shallow gutters with a lower flow capacity are ideal, as they don't have to handle as much water flow.
By choosing gutters based on your roof size, you will prevent water damage issues like leaks and mold growth. You will also prevent structural issues and reduce the need for gutter repairs in the long run.
Heavy Rainfall
If you live in a region with heavy rainfalls throughout the year, you will need to choose larger gutters that are equipped to handle heavy amounts of water. When you choose gutters that are too small, you are more likely to experience water damage in the event of a rainstorm.
6-inch gutters are usually best for homes in areas with heavy rainfall. Likewise, if you reside in a large house that has a steep roof, you may even benefit from 7 to 8-inch gutters.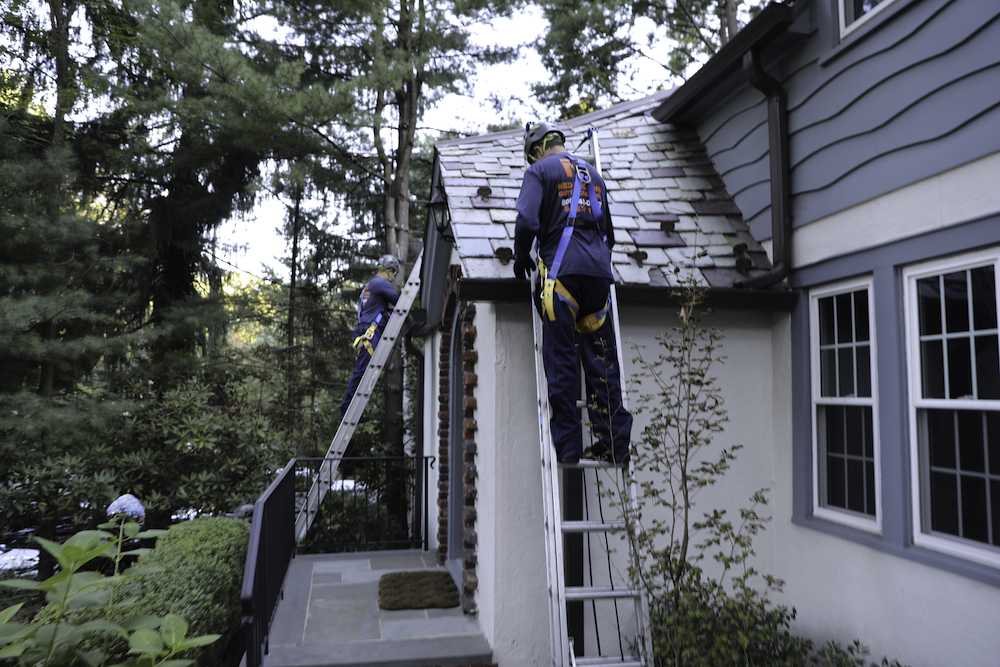 Receive Gutter Cleaning, Repair, and Installation Services
Do you need assistance choosing the correct size gutters for your house? Give our technicians a call by phone at (888) 616-3307 to get a free quote. Our team of professionals offer dependable gutter repair services in Philadelphia, PA and other areas. Our staff have the tools necessary to help you install new gutters or fix damaged gutters on your property.
Our team is committed to offering superior gutter cleaning and gutter installation services for homeowners in your local area. Give us a call or contact us on our website to receive assistance