Ned Stevens Charlotte
Headquarters
Ned Stevens Gutter Cleaning
100 Dominion Drive, Suite 106
Morrisville, NC 27560
(704) 481-6710
Service Hours
Open 7 days a week
Mon thru Thu: 6AM – 8PM
Fri : 6AM – 5PM
Saturday: 6AM – 2PM
Sunday: 6AM – 1PM
Charlotte
Some of the zip codes we service in Charlotte
28297
28299
28260
28256
28258
28290
28296
28288
28289
28261
28262
28265
28266
28269
28270
28271
28272
28273
28274
28275
28277
28278
28280
28281
28282
28284
28285
28287
28255
28253
28254
28244
28246
28247
28250
28227
28242
28243
28228
28229
28230
28231
28232
28233
28234
28235
28236
28237
28240
28241
28201
28202
28203
28204
28205
28206
28207
28208
28209
28210
28211
28212
28213
28214
28215
28216
28217
28218
28219
28220
28221
28222
28223
28224
28226
28263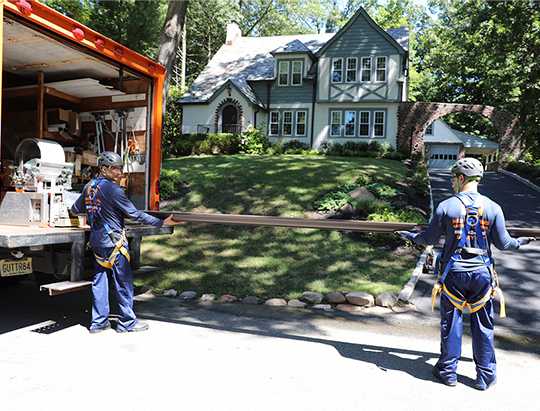 Serving the Queen City of Charlotte
Proudly serving our communities in the Charlotte area, Ned Stevens has been a staple of gutter cleaning in North Carolina for years. With freezing cold and wet winters, combined with those scorching and muggy summers, Charlotte's gutters are placed under heavy strain each season.
Thankfully, Ned Stevens gutter cleaning professionals are ready to offer gutter protection, installation, repairs, and more to local residents. Getting the job done by cleaning and securing your gutters is what matters to us the most. Make sure you're prepared for the next wave of Charlotte weather with Ned Stevens gutter cleaning and repair services.
ABOUT US
A Family-owned Gutter Cleaning Business in Charlotte
Providing stellar gutter cleaning services is why Ned Stevens has been trusted by North Carolina residents for years. Living in Charlotte comes with unexpected precipitation, so homeowners need to take extra precautions to ensure that gutters are in the best shape possible to protect from water damage. This can include removing seasonal buildup to prevent gutter clogging, or roof cleaning to combat bacteria.
Regardless of the service, we take pride in the details and guarantee our work will be done right. Conducting these gutter cleaning tasks on your own can be dangerous, especially considering the volatile weather in Charlotte, so it's best to leave it to the professionals. We keep you safe and make sure the job is done right, every single time.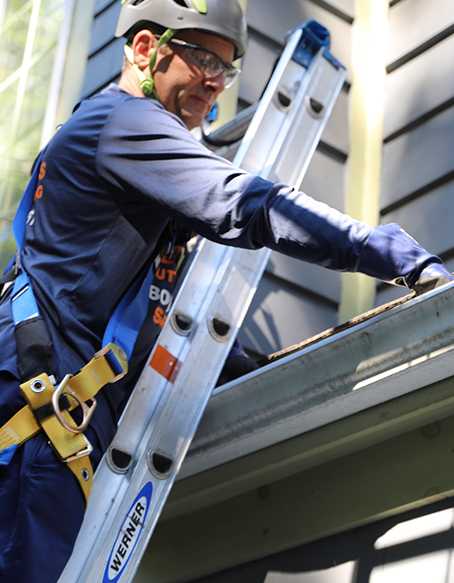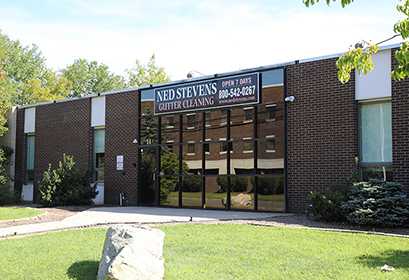 OUR GUARANTEE
We believe in providing the best service possible to our customers across the nation. Because of that belief, all of our work is fully guaranteed. Due to the dangerous nature of our work, we carry full workers compensation as well as liability insurance. After all, our guys and gals are on ladders every day. We want to keep them protected and serving our Charlotte communities year-round.
FREQUENTLY ASKED QUESTIONS
No — we will make your life easy! After you schedule your job, we will appear automatically without further notice for each service scheduled, do a great job, and leave a receipt for you in your door. It's that easy!
We do not recommend screening or gutter guards. Ned Stevens has searched for and experimented with all types of products that claim to prevent gutter clogs for over 50 years. In short, we've found that there's no such thing as a "no clog" gutter. 
We do sell and install gutter screens, but we stopped selling a top-of-the-line solid cover gutter guard. These systems allow debris in the gutters, they allow the water to pour off the top of gutters in heavy rain (which could lead to water in your basement), and they allow clogs. The screens we sell will keep out big debris, but let a significant amount of small debris into the gutters. This debris will cause clogs over time, and can even grow plants in the gutters. As such, even with screens, gutters need to be cleaned regularly.
The solution for gutter clogs is simple: clean the gutters on a regular schedule. You can do this by signing up for one of our ongoing service plans, and you won't worry about your gutters again.
MONDAY-THURSDAY: 6AM-8PM
FRIDAY-SATURDAY: 6AM-5PM
SUNDAY: 8AM-4PM
We accept Visa, MasterCard, American Express and Discover.
Yes, the Senior Citizen Discount is 5%.
We recommend that you clean your gutters about 6 times per year. Your local weather and proximity to trees & debris will dictate your specific needs, but we typically suggest this recommended schedule:
In March, to re-nail all gutters and clear out the branches, dirt and other winter debris – so that they are ready for the "April Showers"

In June, to clean out all the oak tassels, ragweed, seed pods, "helicopters", and other debris that land all over our properties

In August, to remove wind-blown debris caused by Summer thunderstorms

And then three times in the Fall: October, November, and December, to remove all the clogs caused by leaves that come down throughout the Fall season, before the winter freeze.
Our Service Plans provide the simplest solution for worry-free gutter maintenance, all year long, and come with free benefits!
Properly pitched gutters and leaders gather that water and channel it away from the home. Doing so prevents water penetration into the home and its foundation. For this reason, Consumer Reports magazine claims that "runaway rainwater" is the "#1 Home Repair That You Should Not Ignore."
Because of how important a properly flowing gutter system is to your home, you must keep them clean, all year round. If you don't, rainwater can seep into your home's roof, siding, and even its foundation. Water damage to these parts of your home can result in costly repairs. Simply cleaning your gutters prevents these expensive projects and keeps water flowing away from your home.
May, 26 2022
Summer is rapidly approaching, which means it is time for mosquitos to start breeding in New Jersey. Every time you step outside, you are likely going to be accosted by a swarm of hungry mosquitos looking for their next meal. They are not just a nuisance, they can be pretty dangerous with the diseases they […] read more...