How to Pick a Color for Your Gutters
There are so many options when it comes to choosing gutters for installation that it can be overwhelming to choose what you want. This is especially true when it comes to choosing what color you want your gutters to be. Do you want them to match the color of your house? Or should they make a stylistic statement?
Let's discuss the best way to choose your gutter color, what you need to keep in mind while you do, and some frequently asked questions about gutter color.
Choosing a Color for Your Gutters
Roofing or Siding
If you want your gutters to blend seamlessly with the rest of your house, you will want to match the color of your siding or roof.
Exterior Paint Color
Another way to ensure that your gutters blend in is to match the color of your home's exterior paint.
House Trim
Since gutters are hung along the edge of your roof, you can use them to trim the top of your home. You can match the gutter color to the rest of the trim on your home so they work both functionally and aesthetically.
Create a Contrast
Choosing a contrasting color for your gutters is not as common of a practice, but it can add style to the exterior of your home. When you do this, it's important to keep in mind the color palette of your house and choose a color that will work with it.
Available Gutter Colors We Offer
Our team of professions offer a variety of colors for your gutters so that you can choose one that best fits your needs and style. Use our gutter color chart to choose an option for your house.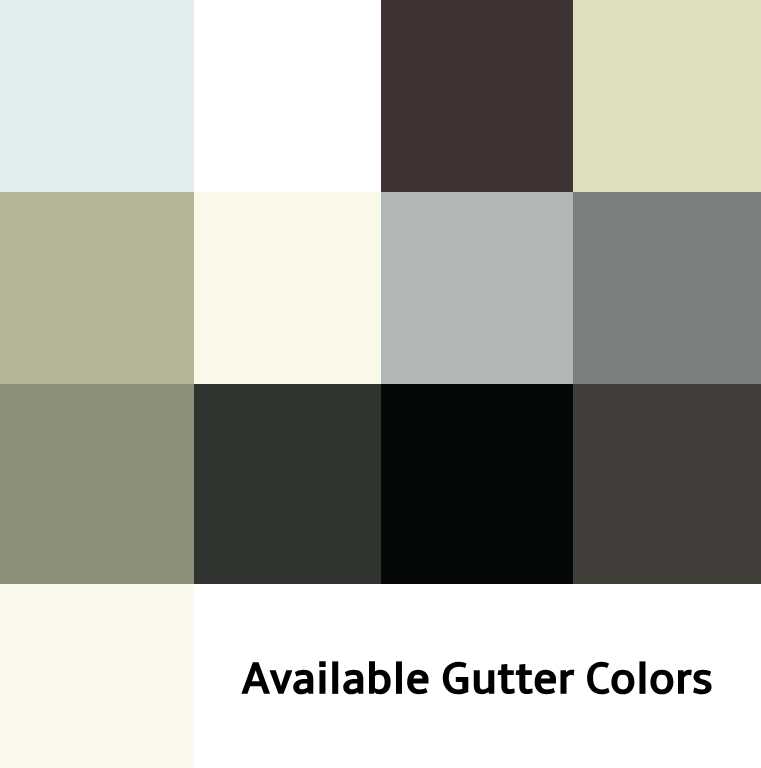 These are the available colors we offer for gutters:
Lo Gloss White
Hi Gloss White
Brown
Cream
Musket Brown
Wicker
Eggshell
Light Gray
Dark Gray
Linen
Clay
Bronze
Black
Factors to Analyze When Picking Gutter Colors
HOA Rules
Homeowner Associations tend to regulate everything about your house, including its color and the color of your gutters. If your home is a part of one, you will want to see if there are any restrictions on color that you should be aware of.
Budget
Keep your budget in mind when you are choosing a gutter color. White is the most basic color that gutters can be and is therefore cheaper. Specialized colors, like gray, brown, and bronze, will most likely be more costly.
Gutter Downspouts
When you are referring to our color chart to choose an option for your gutters, be aware of your downspout locations. If you match your gutters to your trim, your downspout may look out of place if it's in the middle of the wall.
Read More: How to Respond to Leaking Gutters on Your Home
Weather and Climate
Weather and climate can play a big role in what color you choose for your gutters. If you live in a sunny area, your gutters will receive more UV exposure, which can cause very visible signs of sun exposure in lighter colors. In darker colors, you may notice a slight tint from sun exposure, but it isn't nearly as noticeable.
Look at Your Neighbors' Homes
You don't need to match your neighbors' homes in color, but you can use their aesthetic as inspiration. If you see a home you love, check their color scheme and how they chose to match or contrast their gutters. On the other hand, if you see a home you hate, you know that the color choice for their home and gutters are not something you are interested in.
Should Your Gutters Match the Roof of Your Home?
This is a matter of personal preference. If you want your gutters to blend into the color scheme of the exterior of your home, it's a better idea to match them to the color of your house's siding. If you want them to stand out, match them to your roof for a nice contrast to the exterior.
Do Colored Gutters Cost More Money than White Gutters?
Yes, in most cases, colored gutters will be more expensive than white ones. White and off-white are the factory coat that come on most gutters, making them less expensive.
Should Your Gutters Be a Darker Color than Your Roof?
This will depend on your personal preference and if you want your gutters to blend in with the rest of your home's exterior. If your gutters are darker than your roof, then they will likely contrast with your home's exterior.
Read More: What is a Gutter Hanger? Different Types and Applications
Should Your Gutters Be the Same Color as Your House?
If you intend to have your gutters blend in with the rest of your house's exterior, then having them match in color is the best route. If you want them to create a contrast as a stylistic choice, it would be better for them not to be the same color as your house.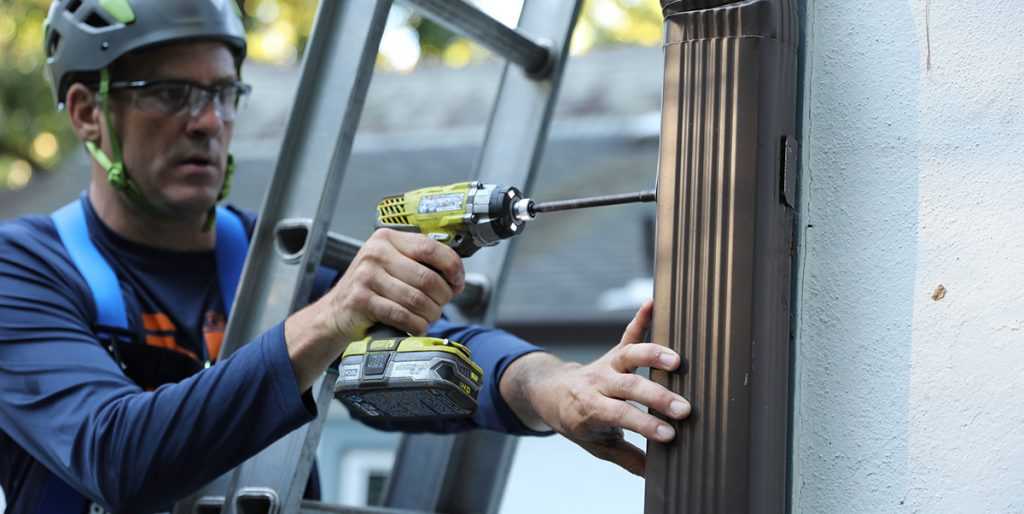 Professional Gutter Installation and Replacement Services
To receive assistance upgrading your gutters, give our dedicated team a call right away at (888) 616-3307. Our knowledgeable technicians provide premier gutter installation services in Renton, WA and will help you choose a color for your home.
We also offer gutter replacement and gutter repair services for homeowners in your local area. It's essential to regularly maintain your gutters through regular gutter repair, cleaning, and maintenance to prevent costly water damage in your home. Our technicians will work with you to maintain your new gutter system throughout the spring, summer, fall, and winter seasons.
At Ned Stevens, we always put our customers first. With over 2,000 five-star reviews and an A+ rating from the Better Business Bureau, you can rest easy knowing that we will take care of your gutters efficiently and with exceptional results.
We understand that gutter care can be urgent, which is why we are available 24/7 and have same-day scheduling available. If you are in need of professional gutter care, we will always be there right when you need us.