Gutter System Parts and Components Explained
Gutter systems are an essential part of every house, but not many know how they actually work. The gutters are the most well-known aspect of the gutter system, but there are a variety of other components including the end caps, miters, downspouts, elbows, pipe cleats, gutter spikes, ferrules, and hangers. Some of these parts are only inches long, but they all work together to function flawlessly. Without any one of these components, the gutter system would fall apart.
Gutter System Components
Gutters
The gutters are the most important part of the gutter system. They are the trough that is designed to catch water, debris, and snow, and redirect it down the pipeline. There are a myriad of different types of gutters for any specific need that you have.
There are some that are meant to mitigate the amount of debris in the gutter, there are others that were created to handle more rainfall, and there are some that can be matched to the aesthetics of your home. Most gutters are made of aluminum for corrosion resistance, but they can be made with a variety of materials.
End Caps
Since gutters are in a trough shape, they require end caps to stop the water from flowing out on either side of them. The end caps are fitted to the ends of the gutters with rivets to close them off and keep the water moving in the direction that it should be.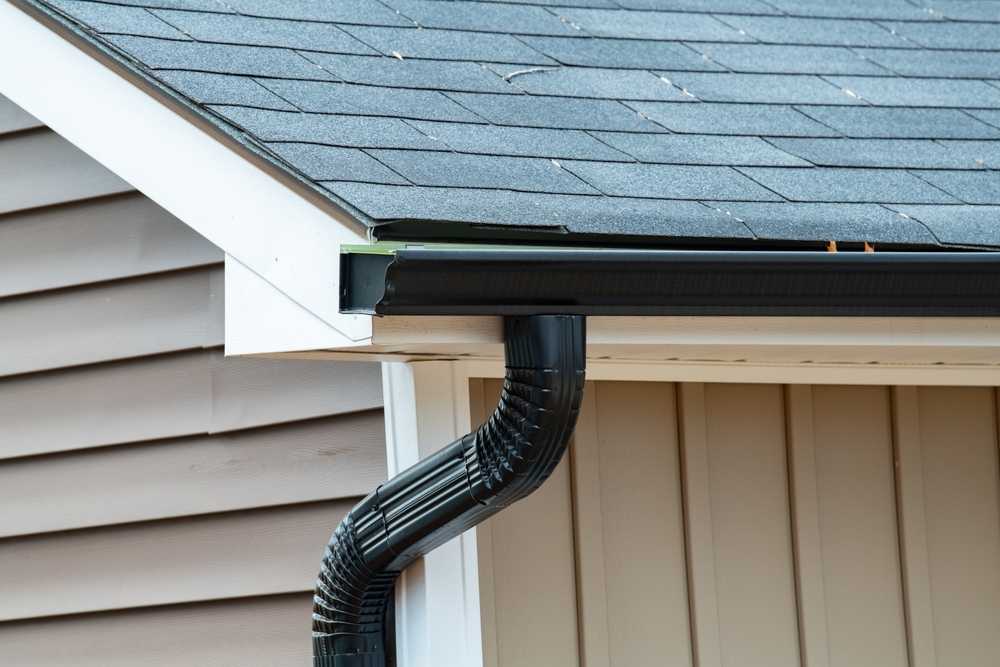 Miters
Miters are an essential component of your system that are designed to connect the gutters in the corners of your roof and reinforce the seam where they connect. When gutters meet on the outside corner, they are joined by an outside miter. Similarly, when two sections of the gutter meet on an inside corner, they are joined by an inside miter.
Downspouts
Another extremely vital part of the gutter system is the downspout. The downspout is an enclosed vertical tube that runs perpendicular to your gutter and carries water away from it. They connect to the gutters along the edges of the roof with a section called a drop outlet, which has a drain-like hole that leads to the downspout.
Read More: What Are Seamless Rain Gutters? Advantages and Disadvantages
Elbows
Elbows are a section of bent metal that helps direct the flow of water from the downspout, around the contour of your roof, and to a pipe that runs vertically along one of the walls of your house. One end of the elbow is crimped so that it can fit into another elbow or a downspout.
There are two kinds of elbows:
A-Style Elbows: bent to direct the water flow forward or backward
B-Style Elbows: directs water to the left or right of the downspout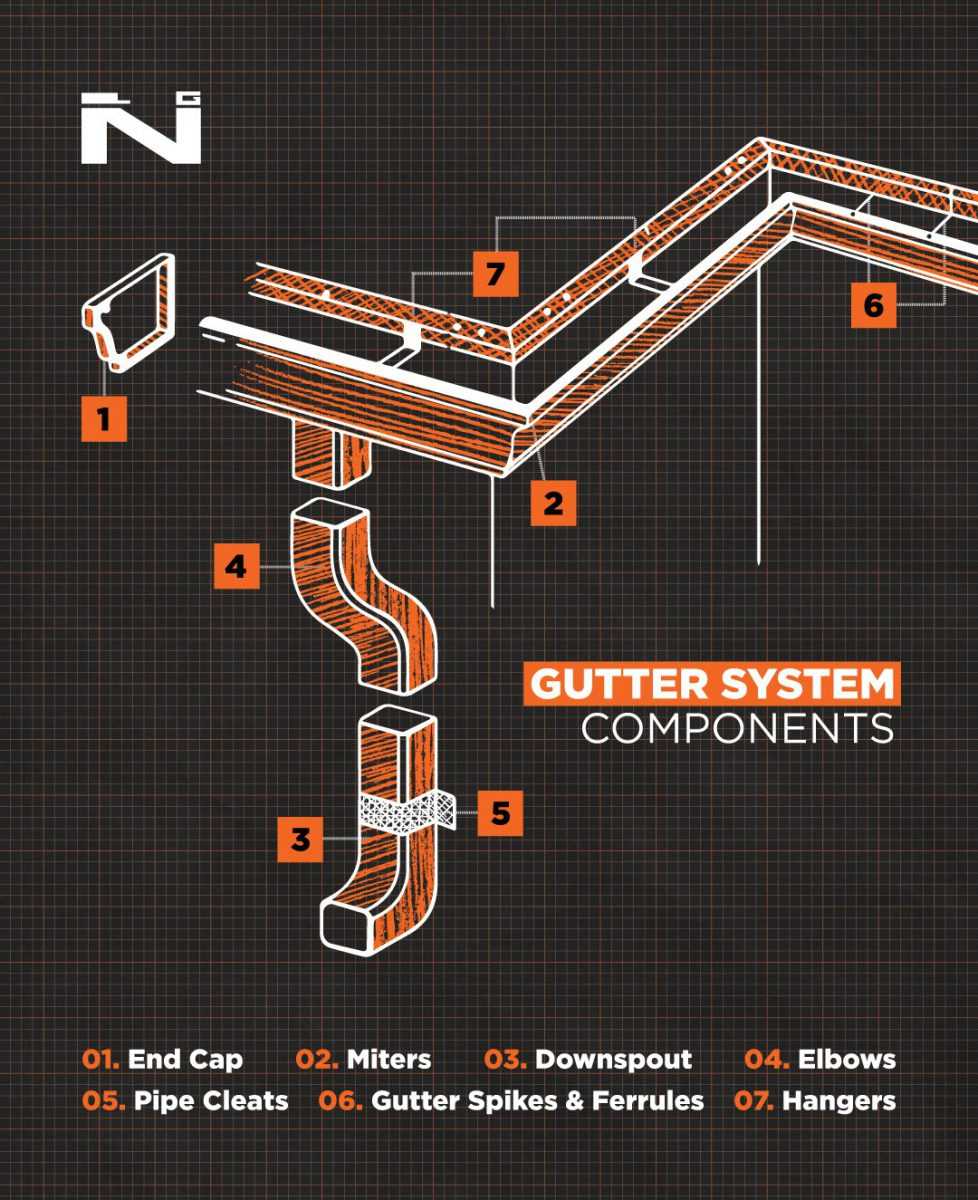 Pipe Cleats
Pipe cleats are also referred to as downspout straps and downspout brackets. They are brackets that are designed to secure the downspout to one of the walls of your house.
This vital part of your gutter system is made of a piece of metal that has been bent to wrap around the outside of the downspout. They are designed to clip through brick, concrete, and siding with the use of heavy-duty bolts and screws.
Gutter Spikes and Ferrules
A gutter spike is a large nail that is utilized to attach your gutters to your roof. A ferrule is a smaller, cylindrical piece of metal that helps to secure the gutter spike.
The gutter spike is forced through a gutter section from the outside and is guided into place by the ferrule. They will then be secured to the fascia, which is a board that encloses the trusses of your roof on the edge of your house.
Hangers
Many modern gutter systems use hangers, instead of gutter spikes and ferrules, to secure the gutter to the roof. Hangers are made up of two pieces: one is a metal bracket that attaches directly to the fascia board with an angled screw and the other piece is a metal hanger that attaches to the front edge of your gutter and clips into the first piece.
The reason that hangers have more popularity is because they can be hidden. They are more aesthetically pleasing, but they also are easier to remove and reattach when needed.

Expert Gutter Cleaning and Repair Services
If you are looking for premium gutter cleaning or gutter repair services, the team at Ned Stevens is here for you. Our exceptional work has earned us thousands of five-star reviews and an A+ rating from the Better Business Bureau, so you can be sure that we will deliver results that exceed expectations and customer service that will make you happy to come back for all of your gutter needs.
Our professionals offer convenient gutter repair services in Waterbury, CT and are available to fix your damaged gutters to help you prevent water damage in your home. To make it official, we have a 100% satisfaction guarantee on all of our work. For ultimate accessibility, live representatives are available twenty-four hours a day and 7 days a week.
Scheduling a service with us has been designed to be easy and stress-free, with same-day scheduling available. We are there whenever you need us. Give us a call at (888) 616-3307 to learn about our service plans, or get a free quote today.