Top 5 Causes of Leaking Gutters and Ways to Fix
Leaking gutters are an extremely common cause of water damage in a home. To avoid needing to treat your home for moisture damage, it's best to get in front of gutter leaks and fix them before they can do irreversible harm. Let's discuss the top causes of leaking gutters, the signs to look out for, and how to fix them.
Common Causes of Gutter Leaks
These are the most common causes of gutter leaks and how they need to be fixed. It's always recommended that a trained professional performs gutter care for your safety and convenience.
1. Gutter Joints Are Leaking
Joints around the gutter downspouts are particularly vulnerable to leaks. Since these areas catch debris and water, this can cause them to corrode and deteriorate over time, making them separate. Some milder cases of separated joints can be fixed with caulk, but for more severe cases, they will need to be replaced.
2. Damaged End Caps
End caps serve the purpose of closing the ends of the gutters and preventing the water from leaking. If the end caps on your gutter system become loose, they will not be able to contain the water properly and cause leaks. The easiest way to fix this type of water leak is to install a new end cap. These can be installed by using sealant and crimping down the metal.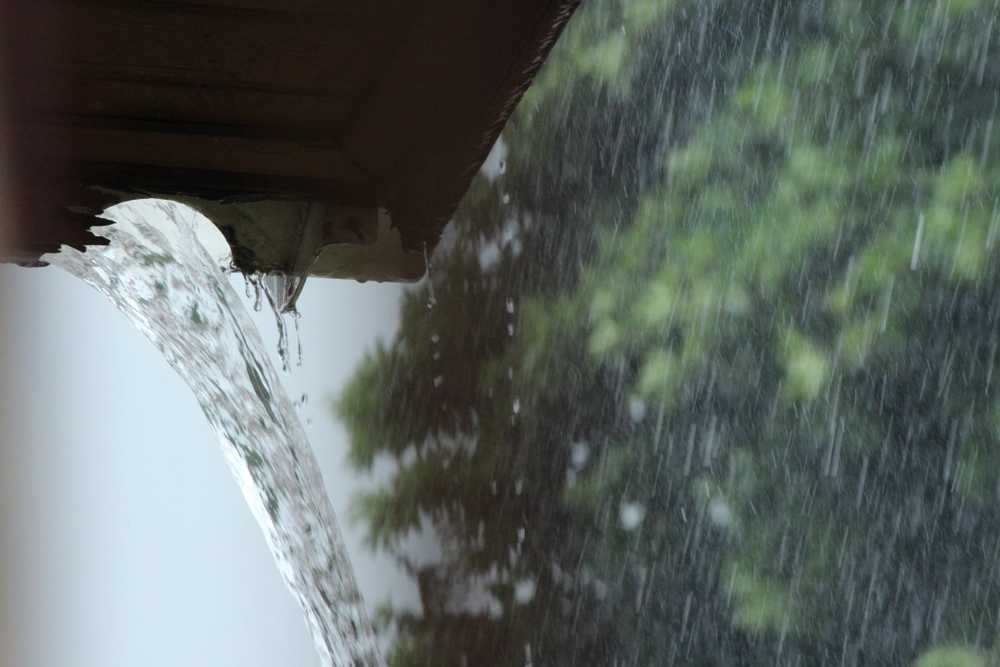 3. Holes and Cracks in the Gutter System
Your gutter system can't contain water if it has holes or cracks that cause leaks. Over time, the gutters can become corroded and will need to be repaired or replaced to function properly. For smaller holes and cracks, waterproof sealant or caulk may work. For more serious holes, the entire gutter section may need to be replaced.
4. Clogged Gutters
Your gutters can become clogged if they are not cleaned regularly and fill up with leaves, twigs, and other debris. These clogs will disrupt the flow of water and force it over the sides of the gutters, resulting in water pooling at the base of the home or infiltrating the roof. To eliminate clogs, the gutters will need to be cleaned.
5. Loose Hangers
Gutters are typically connected to the fascia board on a home by gutter hangers. If the gutter hangers are loose, this issue can cause runoff water to flow over the edge of the gutters and damage the fascia board. If the hangers are just a little loose, they can be screwed back in with a drill. When the hangers are dented or bent, they will need to be fully replaced.
How Do Gutters Protect Your Home?
Regardless of where you live and the local climate, clean gutters are designed to protect your home throughout the spring, summer, fall, and winter seasons. Our helpful infographic below contains an outline of the most common seasonal threats you can eliminate when you work with a professional to maintain your gutters.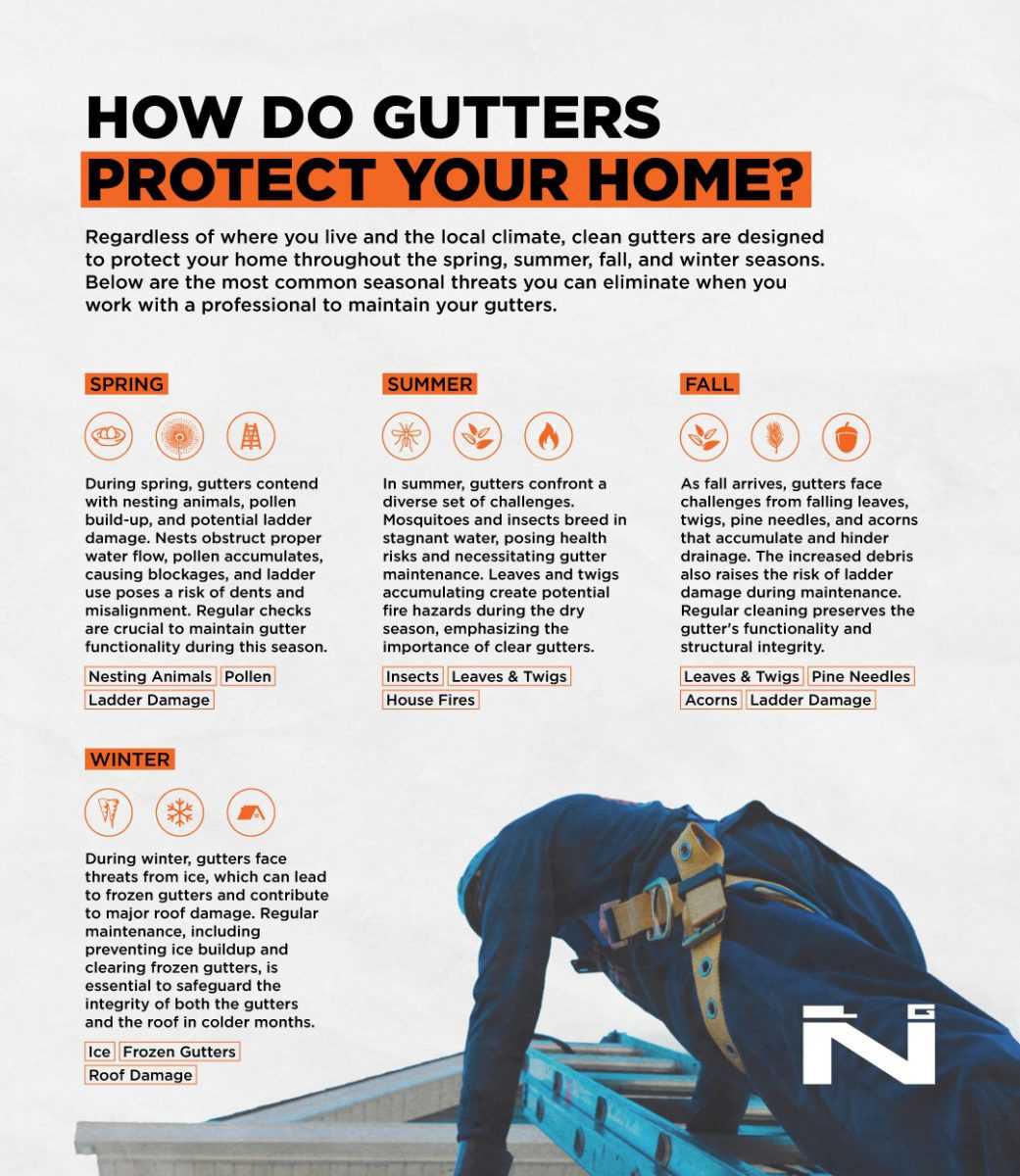 How to Inspect the Gutter System
Check for Standing Water
To check for standing water, a professional will use a ladder to see if there is any inside of the gutters.
Inspect the Slope of the Gutters
Gutter slopes need to be pitched toward the downspouts for the water to flow properly. There should be at least a quarter of an inch of slope for every ten feet. You can tell if the gutter is sloped improperly by getting on a ladder after rain and checking if there is standing water inside.
Check for Sagging Gutters
Sagging gutters are easy to spot from the ground. You will be able to see if your gutters are sagging down or pulling away from the roof.
Check if the System is Correctly Installed
There are a couple of ways to tell if your gutter system is correctly installed including:
Not enough downspouts
The gutters are too small
There are too many seams
The gutter pitch is off
The gutter hangers are not spaced correctly
Signs of Leaking Gutters
There are some indications that your gutters are leaking:
Dripping water from the roof
Musty smells inside of your home
Puddles around the base of your home
Mold growth on the walls and ceilings
Cracks or peeling paint inside or outside of your house
After it rains, water is falling from the gutters anywhere other than the downspout
Stains on the siding and walkway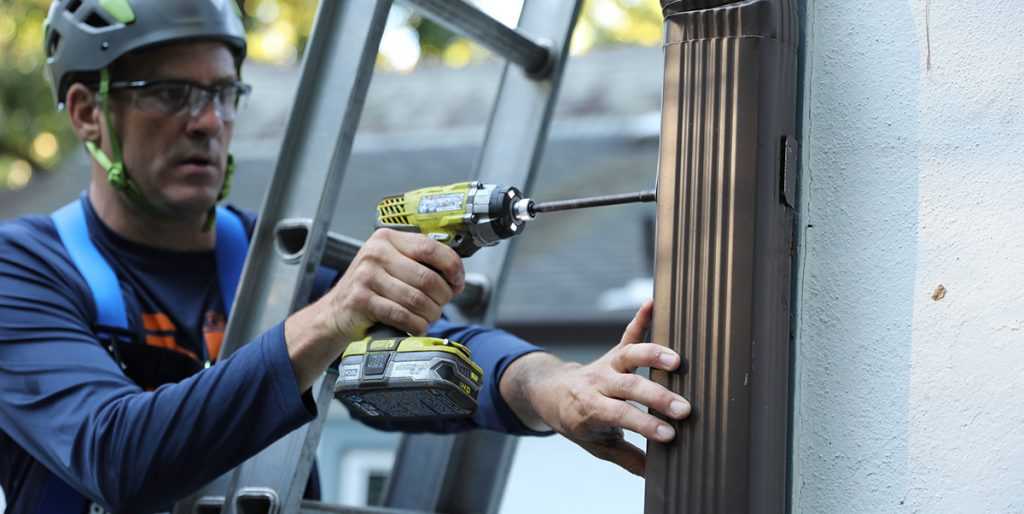 Gutter Repair and Cleaning Services
If your gutters are leaking, give our professionals a call at (888) 616-3307 to receive support fixing them. Our skilled technicians provide premium gutter repair services in Renton, WA and will work with you to prevent water damage in and around your house.
It's imperative to keep your gutters in top condition through regular gutter repair, cleaning, and installation services to avoid expensive damage on your property. At Ned Stevens, we always make our customer's satisfaction our top priority.
With over 2,000 five-star reviews and an A+ rating from the Better Business Bureau, Home Advisor Elite Service Status, and Angie's Honor Roll, you can be sure that we will take care of your gutters with exceptional care, providing results that will exceed your expectations.
We know just how urgent gutter care can be, which is why we have same-day scheduling available and are open seven days a week. You can rest easy knowing that our team will help you remove gutter sludge and blockages in your system. When it comes to preventing water damage, don't wait to contact our dependable team of professionals.