Chicago
Some of the zip codes we service in Chicago
60064
60086
60088
60185
60186
60290
60398
60411
60412
60415
60475
60601
60602
60603
60604
60605
60606
60607
60608
60609
60610
60611
60612
60613
60614
60615
60616
60617
60618
60619
60620
60621
60622
60623
60624
60625
60626
60628
60629
60630
60631
60632
60633
60634
60636
60637
60638
60639
60640
60641
60642
60643
60644
60645
60646
60647
60649
60651
60652
60653
60654
60655
60656
60657
60659
60660
60661
60663
60664
60665
60666
60667
60668
60669
60670
60671
60672
60673
60674
60675
60677
60678
60679
60680
60681
60682
60683
60684
60685
60686
60687
60688
60689
60690
60691
60693
60694
60695
60696
60697
60699
60701
60706
60707
60712
60803
60804
60805
60827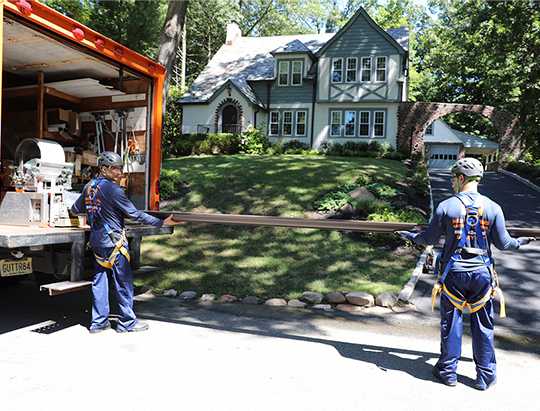 Chicago's Experienced Gutter Cleaning Professionals
With professional gutter cleaning experts available 7 days a week and over 40 years of local experience, Ned Stevens is ready to help with all your Chicago gutter service needs. Those windy Chicago days can blow leaves and debris directly into your gutters, causing clogs that can ruin your entire gutter system.
When your gutters aren't cleaned regularly, this debris interrupts the flow of water from the roof and away from your home. The water may overflow on both sides of the gutter, causing water damage and mold growth. 
We offer comprehensive gutter cleaning, repair, and installation services for homes in Chicago and are committed to helping you prevent water damage on your property. Our team is fully insured and prepared for small to large gutter cleaning projects.
Climbing up the ladder to clean gutters yourself is dangerous, and it's difficult to properly clean your entire gutter system. Chicago homeowners shouldn't have to climb ladders and risk their safety just to keep clean gutters. Ned Stevens is here to help and make sure the job is done correctly, safely, and quickly. 
ABOUT US
A Fully Integrated Gutter Cleaning Service Provider
Ned Stevens has repeat customers across the U.S. who rely on our licensed gutter cleaning professionals every season. We've been able to deliver top-rated gutter cleaning services by prioritizing safety, building trust, and focusing on your needs first. When we visit your home to complete a service, we do it with a purpose in mind: customer satisfaction. 
We know that maintaining your Chicago home is important for preserving the value of your biggest investment. Let the professionals at Ned Stevens provide professional gutter cleaning & repairs, roof cleaning, underground drain snaking, gutter screening, and more. Are you prepared for what the dynamic Chicago weather may bring? Give us a call at (847) 908-5125 to get a free quote.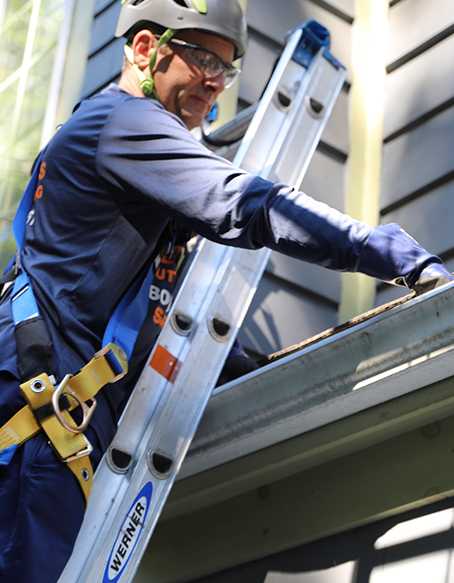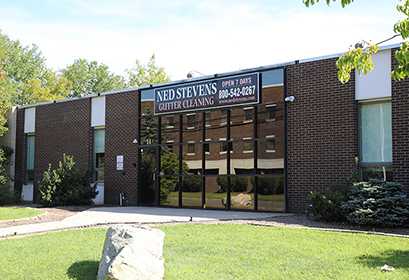 OUR GUARANTEE
We believe in providing the best service possible to our customers across the nation. Because of that belief, all of our work is fully guaranteed. Due to the dangerous nature of our work, we carry full workers compensation as well as liability insurance. After all, our guys and gals are on ladders every day. We want to keep them protected and serving our Illinois communities year-round.
FREQUENTLY ASKED QUESTIONS
No — we will make your life easy! After you schedule your job, we will appear automatically without further notice for each service scheduled, do a great job, and leave a receipt for you in your door. It's that easy!
We do not recommend screening or gutter guards. Ned Stevens has searched for and experimented with all types of products that claim to prevent gutter clogs for over 50 years. In short, we've found that there's no such thing as a "no clog" gutter. 
We do sell and install gutter screens, but we stopped selling a top-of-the-line solid cover gutter guard. These systems allow debris in the gutters, they allow the water to pour off the top of gutters in heavy rain (which could lead to water in your basement), and they allow clogs. The screens we sell will keep out big debris, but let a significant amount of small debris into the gutters. This debris will cause clogs over time, and can even grow plants in the gutters. As such, even with screens, gutters need to be cleaned regularly.
The solution for gutter clogs is simple: clean the gutters on a regular schedule. You can do this by signing up for one of our ongoing service plans, and you won't worry about your gutters again.
We accept Visa, MasterCard, American Express and Discover.
Yes, the Senior Citizen Discount is 5%.
We recommend that you clean your gutters about 6 times per year. Your local weather and proximity to trees & debris will dictate your specific needs, but we typically suggest this recommended schedule:
In March, to re-nail all gutters and clear out the branches, dirt and other winter debris – so that they are ready for the "April Showers"

In June, to clean out all the oak tassels, ragweed, seed pods, "helicopters", and other debris that land all over our properties

In August, to remove wind-blown debris caused by Summer thunderstorms

And then three times in the Fall: October, November, and December, to remove all the clogs caused by leaves that come down throughout the Fall season, before the winter freeze.
Our Service Plans provide the simplest solution for worry-free gutter maintenance, all year long, and come with free benefits!
While it may seem like a more affordable option to clean your gutters on your own, the potential risks simply do not outweigh the savings. You risk serious injuries and might not own the proper equipment or experience. You could also damage your gutters, gutter pitch, or the roof and end up paying even more in costly repairs. Professional gutter cleaners have the experience and equipment to get the job done safely and efficiently, so you can rest assured that your gutters will be clean and functioning correctly. In the end, hiring a professional gutter cleaner is the best option for your home.
Properly pitched gutters and leaders gather that water and channel it away from the home. Doing so prevents water penetration into the home and its foundation. For this reason, Consumer Reports magazine claims that "runaway rainwater" is the "#1 Home Repair That You Should Not Ignore."
Because of how important a properly flowing gutter system is to your home, you must keep them clean, all year round. If you don't, rainwater can seep into your home's roof, siding, and even its foundation. Water damage to these parts of your home can result in costly repairs. Simply cleaning your gutters prevents these expensive projects and keeps water flowing away from your home.
Nov, 15 2023
There are so many options when it comes to choosing gutters for installation that it can be overwhelming to choose what you want. This is especially true when it comes to choosing what color you want your gutters to be. Do you want them to match the color of your house? Or should they make […] read more...