Gutter Season: Why You Need to Have Your Gutters Cleaned This Fall
Clogged Gutters Damage Your Home
There are few things worse than clogged gutters. Why? The costs of repairing damage stemming from clogged gutters far outweigh the cost of simply maintaining them well. At Ned Stevens, we care about the health of your home. If you're a first-time customer, take $25 off your first gutter cleaning!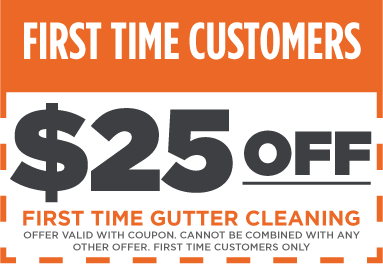 Clearing away of summer storm debris
If you haven't had your gutters cleaned before the beginning of fall, now is the time to take action. You'll want your gutter system clear before the leaves make their way down. Summer storms bring plenty of rainwater and debris, and these storms can also damage your gutters.
Repairing any damage
Regular gutter maintenance will ensure that any damage your gutters incurred will be repaired quickly. If your gutters are damaged, you'll want them in good shape before the full force of fall brings leaves and added weight to your gutter system. When your gutter system has damage, it's critical to get the damage taken care of before putting added stress on your gutters–they can only support so much weight before they fail, whether they fail by leaning or even falling down!
Taming the leaves
Your gutters are only functional when water can flow through them. Keeping the leaves at bay is an important objective in fall gutter cleaning. Leaves, once wet, can weigh down your gutters and potentially damage the fascia on the side of your home. An obstructed flow can cause issues like water pooling around the base of your home.
Protect your foundation and home
Your gutters divert water away from your foundation. When water pools at the base of your house, you can incur foundation damage which isn't easy to repair, and you also run the risk of your basement flooding. Keeping your gutters unobstructed is the best thing you can do to prevent this kind of damage. Additionally, make sure your underground drains aren't clogged. A clogged underground drain can also lead to flooding your yard and allowing water to pool near your foundation.
Winter is coming: be ready!
As fall fades into winter, you'll want to be sure that your gutters are clean and in good shape. The cold winter months can bring winds, precipitation and debris into your gutter system. Ice can also cause tree limbs to break and land on your roof. Keeping your gutters in good condition moving into the year's coldest months will ensure that they don't get weighed down by additional fall debris remaining in your gutter system once snows fall.
Any Questions?
If you're not already enrolled in a Ned Stevens service plan, now is the time to remedy that problem, my friend! With our Diamond Plan, you'll get all our recommended annual cleanings including (3) three fall cleanings. Additionally, you'll get discounts on other Ned Stevens services and plenty of Ned's perks!