7 Questions For Your Gutter Installation Company
Many homeowners experience the pain of clogged and broken gutters that need replacement. Eventually, all gutter systems will break, and before you risk your life climbing onto the roof to DIY, you should consider hiring a gutter installation expert. 
When exploring gutter installation companies, there are seven key questions you can ask to get the best service results. These questions include everything from the type of gutter system and maintenance schedule, to project budget and appointment timing. 
1. Gutter Systems 
Keep in mind that the core function of gutters is to prevent water damage to your home. When this core function becomes compromised beyond repair, it is time to look into replacements, because gutters that don't operate at 100% can cause damage quickly. Without a proper drainage system, houses can become waterlogged which can cause thousands of dollars to fix. Before you hire a gutter installation expert, it's important to ask if they can install the gutter system that works best for your home.
2. Materials 
Sometimes gutter companies allow homeowners to choose the type of materials for their gutter system. This is usually because some materials are more affordable than others. Some gutter systems are more durable and protect better against weather elements than others. For example, aluminum gutters work better than vinyl in colder temperatures, so if you live  in a cold-weather climate, this information should drive your decision. 
Homeowners should always prioritize the durability of a gutter before its aesthetic, though it's often possible to get the best of both worlds. Always ask the gutter installation company what materials they plan to use for your new gutters.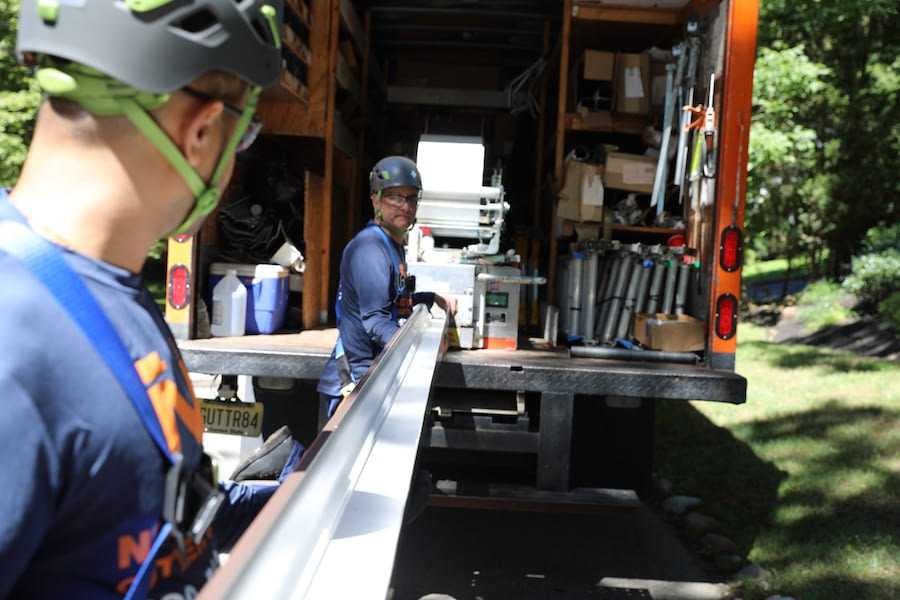 3. Time
As mentioned previously, installing gutters can be a laborious and arduous task, not to mention dangerous. Furthermore, gutter installation needs to be done properly so that the core function of gutters is not compromised by an incorrect setup. 
A gutter installation expert can help mitigate errors in the new gutter system which can help gutters function correctly over a longer period of time. The faster gutters are installed properly, the faster they are able to protect a home. Ask the gutter company how long they think the job will last, and if they might need to come back for multiple service appointments. 
4. Transparency
You should be sure to let a gutter installation expert know upfront of any issues the house may be experiencing that could negatively affect the project. Transparency is needed from homeowners because it helps the gutter service professional properly estimate the cost and timeframe for repair work while considering any specifics for the project. 
You're hiring a gutter installation expert for a reason, so equipping the expert with all knowledge on hand will let them facilitate a solution and project scope faster. Otherwise, if a gutter installation expert discovers the problem by surprise,  it will add unnecessary time and cost to the project. Communicating the issue upfront will allow the gutter installation expert to quote and scope the project properly. Be sure to ask if there are any common issues with gutters that you should be aware of that  could be identified before the job starts. 
5. Budget
Before hiring a gutter expert you should do research on costs associated with the size of your home, and identify a budgetary range you feel comfortable with. Remember that color, material, and timeframe can all impact a budget, so knowing the "must-haves" and "nice-to-haves"  can help a gutter installation expert deliver a quote that meets your budget. Ned Stevens professionals can help you with a free gutter installation estimate online or over the phone. 
6. Reputation
When you're finally ready to hire a gutter installation company, narrow down your search to the top three companies. Use resources like the Better Business Bureau to see business ratings and check out reviews on Google. Pay attention to how past customers commented on any given company's customer service, professionalism, and quality of work. This due diligence will help ensure that the gutter installation expert is legitimate and well-reputed. You should also ask the company about customer support and reviews. A company with good reviews and customer service will be happy to answer the question and point you to good reviews to help with your research. 
7. Warranty or Service Guarantee
Don't forget to check on a warranty or service guarantee. If you can't find a gutter service policy or guarantee, that's a sign that you should look for another gutter installation expert. If a company is unable or unwilling to guarantee their work, it means that you could eat the cost of poor work, like improperly installed gutters failing during a thunderstorm.
These seven questions can help you choose the right gutter installation service. Obtaining specific answers around the type of work that needs to be done on your house, and communicating that accordingly with a gutter installation expert can get your project off on the right foot. A reputable gutter installation company will provide great service, which as a homeowner, has an unmatched value. If you're in one of Ned Stevens' many service areas throughout the U.S., our team would be happy to schedule your next gutter installation. Call us or get a free online quote to learn more.