6 Reasons Why DIY Gutter Repair Is A Horrible Idea
As the sun sets on summer and the days grow colder, the leaves and dying tree limbs surrounding your home will begin to fall, creating heaps of chaos on your lawn and in your gutters.  The all too familiar chore of raking leaves and bagging pesky lawn debris will soon take over your life and you may even be attempted to not only clean your gutters but to repair old ones.  However, climbing on top of your house to repair and unclog your gutter system is a horrible idea.
6 reasons why you should skip this chore and hire a professional:
1.  It's Scary and Dangerous
The higher you climb, the harder you fall.  Even for the professionals, falls from ladders account for nearly one-third of all fall fatalities!  It's absolutely not worth the trip to the hospital, nor the hospital bill.
2.  It's Not As Easy As It Looks
Hopping up on your ladder and scooping the gunk out of your gutters is one thing.  Setting gutters on pitch to ensure runoff flows in the right direction is another.  Since life likes to throw curve balls, once you are on your ladder, you never know what you might find.  Mold, pesky bugs, holes, or even animals may be living in your gutters!  Bottom line, gutter repair is not as easy as it looks.
3.  You'll Save Money
Who doesn't want to save money?  DIY gutter installation requires multiple trips to the local hardware store to buy an infinite amount of supplies:  gutters, downspouts, hangers, clips, sunscreen, hoses, gloves… the list goes on.  What seemed like an affordable project eclipsed what it would cost to hire a professional.
4.  Better Quality
All gutters purchased at stores come in sections.  That means that they are guaranteed to have seams!  Those seams will start to sag and will start to leak once they are filled with rain.  The ONLY gutters that are proper are seamless gutters, custom made to run the entire length of a house.  In addition, the materials that we use at Ned Stevens are the best money can buy.  Our .032 gutters are made from the thickest aluminum on the market and our aluminum supplier informed us that the majority of other gutter companies choose to install .027 gauge aluminum gutters simply because the cost is much cheaper (but also much weaker).  Our leaders, hangers, straps and even our stainless steel screws are of the highest quality.  When you choose Ned Stevens Gutter Cleaning® you choose the best.
5.  Hauling Gutters Is Taxing
Gutters can easily buckle during transit and installation, even if you do drive a large SUV.  Rather than deal with the headache, let us bring everything you need, right to your doorstep!  At Ned Stevens we have our own gutter installation trucks that produce seamless gutters on-site.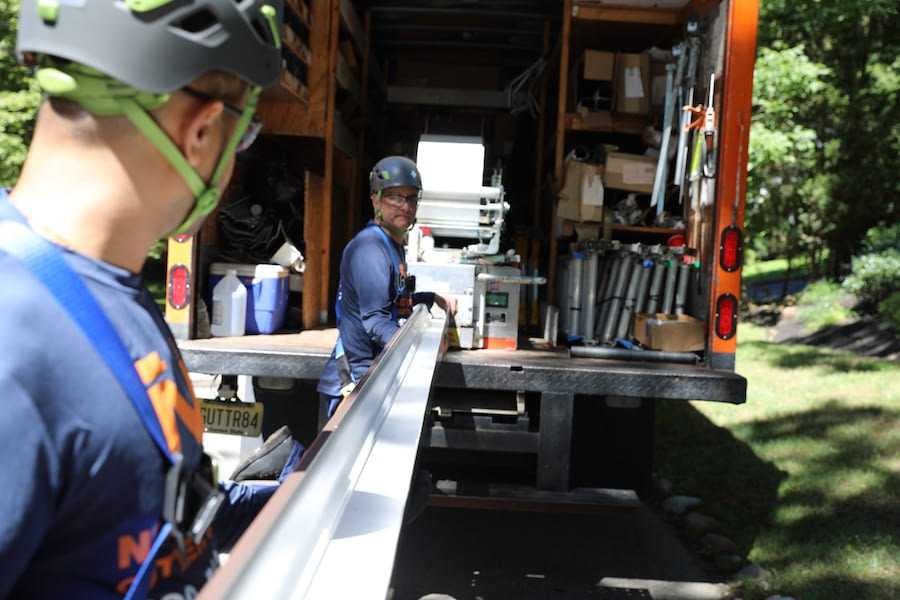 6.  Guarantee Not Included
If you install or repair gutters yourself your work will not come with a warranty.  Even if you install your gutters correctly, you may still have to spend hundreds of dollars more down the line if and when something goes wrong.  At Ned Stevens, we understand the value of a dollar and that is why our gutter installation service comes with the following guarantee:  twenty years on the material and one year on the workmanship, so long as the system is properly maintained.
Gutter repair, gutter installation and gutter cleaning are extremely specialized tasks and can cost homeowners hundreds of thousands of dollars if done incorrectly.  This fall, be smart, and invest in something that will quite literally keep a roof over your head for years to come.  Leave it to the professionals and give us a call at 800.542.0267 or visit our website at nedstevens.com to learn more about our service plans.