Ever feel like your paycheck goes as quickly as it comes, making it hard to save? It doesn't have to be that way. With a little ingenuity and know-how, there are several things you can do around the house to help save money. Ned Stevens is here to show you how.
Stop Flushing Money Down the Toilet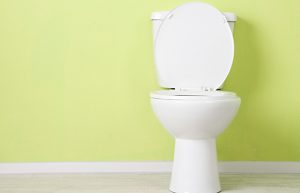 The common toilet built after 1992 uses 1.6 gallons per flush, with some older toilets going as high as 3-7 gallons per flush. Try this easy hack to lower your water bill. First, fill a liter-sized soda bottle with water then place it in the corner of your toilet's tank. That's it! This simple trick will save you a liter of water on each flush.
Make Your Ceiling Fan Work for You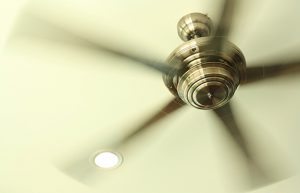 A great money saving home hack is right above you. Your ceiling fan is not only great at keeping you cool, it can also help warm your home. Many fan models can change the direction of their spin, so if you're using your home's heating system, remember to set your ceiling fan to rotate clockwise. This will help distribute the rising hot air back down into the room. This trick will help lower your electric bill by making you less reliant on your high-energy heating system. Just be sure to switch your fan's direction back to counterclockwise when the days warm up.
DIY All Purpose Cleaner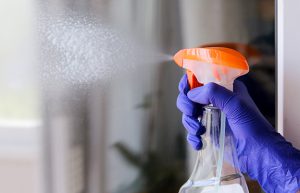 Expensive cleaning solution options crowd the cleaning supply aisle of your favorite store. Skip the hassle (and the expense!) by making your own with these everyday household ingredients. Mix vinegar (1/2 cup), baking soda (1/4 cup), and water (2 cups) into a clean spray bottle. This non-toxic solution can be used to clean anything from your windows and countertops to showers and sink fixtures. After this hack, a clean home now means more money in your wallet.
Unplug Those Plugs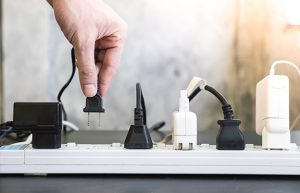 The term vampire loads may mean little to you, but for gadget junkies, take note! "Vampire loads" are the slow usage of electricity by devices that are plugged in, but not being used, and it affects your monthly energy bill in a big way. This includes televisions, cell phone chargers, coffee makers, and much more. Combat energy leaks by unplugging all electronics when you no longer need them. This simple hack can help lower your electricity bill each month.
Search for Rebates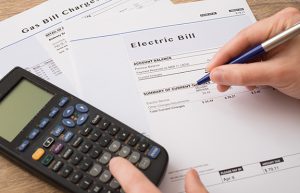 The most straightforward money saving hack is simply asking for savings. You may not be aware that many utility companies offer unadvertised rebates. Power companies offer discounts for transitioning from using incandescent light bulbs to LED bulbs. Water companies often offer lower bills for customers with ultra-low flow toilets. The best way to take advantage of these deals is by calling and asking. A few minutes on the phone can lead to long term savings.
A great hack is to avoid costly home repairs altogether through preventative maintenance. Clogged gutters are a common problem area for many homeowners. Gutters overflowing with debris can damage your foundation or cause flooding in your basement. Save yourself from these expensive problems with the help of Ned Stevens. We are offering $25 off first-time gutter cleaning for new customers. Call to get a free quote today.