When it comes to lawn care, the spring season is all about ensuring your lawn is growing green and healthy. After spring, lawn care becomes more challenging as the summer season is faced with rising temperatures and scarcity of rain. Below are some of the tips for keeping your lawn in top condition amid the hot summer days and making sure it can withstand barbecue parties, games, and other outdoor activities.
How Seasonal Changes Affect Your Lawn
Seasonal changes can affect the condition of your lawn. Whether you have cool-season grasses such as fescue and rye or warm-season grasses such as Bermuda and Zoysia, your lawn will struggle if the temperature is hitting 80 degrees Fahrenheit and above.
Not only will grass growth become slow, but the color of your lawn will also fade—showing signs of wear and tear. Furthermore, some cool-season grasses, which ideally grow in temperatures around 60 degrees Fahrenheit, may even become dormant in the hot summer season.
Watering Your Lawn During Summer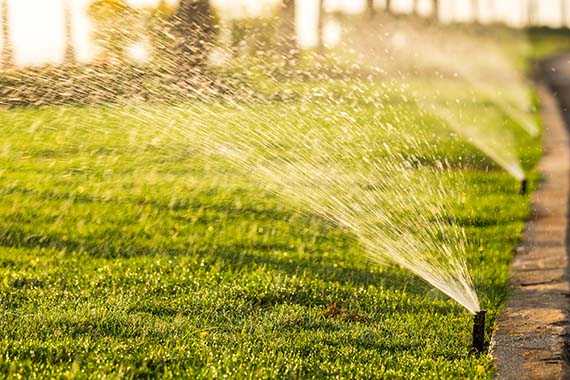 Normally, lawns require at least an inch of water every week. However, they require more in times of extreme heat. Here are some tips on how to water your lawn during the summer:
Monitor the amount of water your lawn receives from rainfall and irrigation using a rain gauge or a straight-sided can.

Water your lawn deeply and less frequently to promote drought-tolerant roots.

Avoid fungal growth and regulate evaporation by watering early in the day.
Try not to let the grass turn brown by watering your lawn properly. Preventing it from going dormant is easier than watering it back to life.
Proper Mowing Techniques for the Summer Season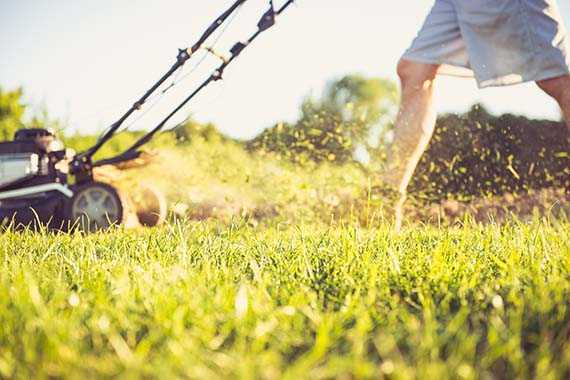 Need to mow your lawn in the summer? Raise your blades since taller grass is more resilient to droughts and can help keep weeds from spreading. How? The shade that taller grass provides can prevent the seeds of unwanted weeds from germinating.
Below are some mowing tips:
During the summer, cool-season grasses should be mowed at 3 to 4 inches. Meanwhile, it is recommended to mow warm-season grasses at 2 to 3 inches.

Keep moisture at a steady level by mulching grass clippings.

Regularly mow and don't cut more than 1/3 of the grass' height at once.

Ensure that your mower blades are sharp enough to actually cut the grass and not just tear it.
Controlling Weed Growth in the Summer
This season is the ideal time to get rid of unwanted weeds before they grow and disperse seeds. Eco-friendly post-emergent herbicides are effective for eliminating weeds, but must be used when you're certain that the temperature in area will stay at below 85 degrees Fahrenheit for a couple of days. Alternatively, you can hand-pull the growing weeds to prevent potential damage.
Proper Fertilization of Your Lawn
Do not fertilize your lawn if it is looking poor in the middle of the summer season. Actually, it is recommended to stop applying fertilizer about a month before your location reaches summer temperatures.
Always use caution when fertilizing, as certain types of fertilizer can actually "burn" your lawn, damaging your grass and creating the kinds of problems you're looking to solve in the first place.
Top Tip: Use organic fertilizers rather than chemical ones because they don't tend to damage your grass.
Installing Pathways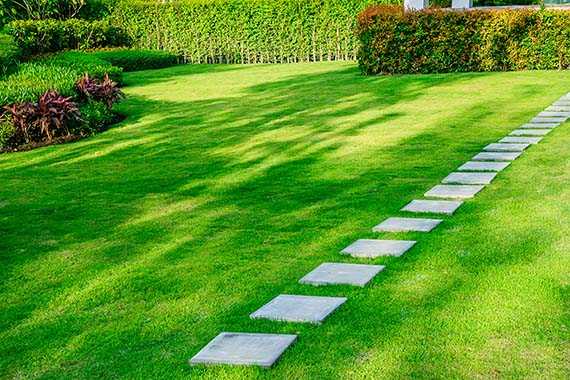 Due to the intense summer heat, it is highly likely that your lawn will become easily damaged and show signs of wear and tear. To prevent further damage in the high-traffic areas on your lawn, it is recommended to install pathways or stepping stones.
Managing Pest Infestation and Diseases
Dormant and damaged lawns are more vulnerable to pest infestation. Minor infestations of bugs, mosquitoes, cutworms, fire ants, and other insects are not a huge problem. However, if the issue becomes severe, use an organic insecticide, but make sure that you apply it under safe temperatures and conditions.
Meanwhile, to resolve fungal diseases such as brown patches and mildew, fungicide application is recommended. Also, you can minimize nighttime moisture by not watering your lawn in the evening.
Beyond Summer Lawn Care
Your lawn isn't the only thing that can fall victim to mold and mildew. These fungi spread quickly across siding, inside gutters and on roof shingles. There is good news, however. If your home has a mold or mildew problem, the professionals at Ned Stevens Gutter Cleaning® are here for you. Our environmentally-friendly soft wash services are designed to make sure your roof, siding, patio, stairs, driveway and walkways look great while eradicating the mold and mildew!
First time customer?