The home office can be one of the most difficult spaces to tame, especially if you frequently work from home, but never fear! We have some tips that will help you create a more beautiful, clutter-free space that you'll look forward to spending time in.
The Work Desk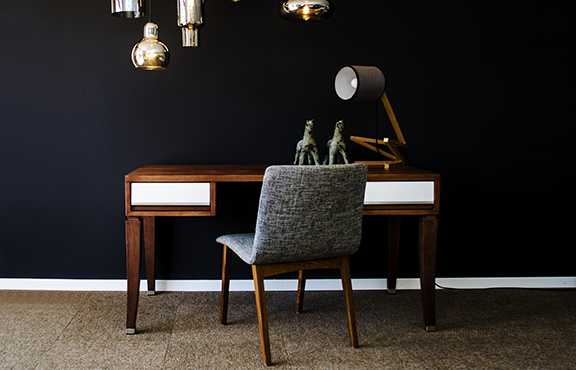 Choosing a work desk that meets your needs can be a challenge. Often, desks featured on style blogs are chosen for their aesthetic appeal without much consideration for the utility of the workspace. That's not to say aesthetics are not important, but when choosing a desk be sure to also consider what operations you'll need to accommodate. For instance, a tiny minimalist desk wouldn't work for someone needing space to house multiple monitors or an artist who needs ample desk space for drafting. Similarly, the blogger who only needs a laptop and a cup of coffee doesn't need an elaborate display setup or the big desk to support it. Two words to take away – functional and beautiful.
Plants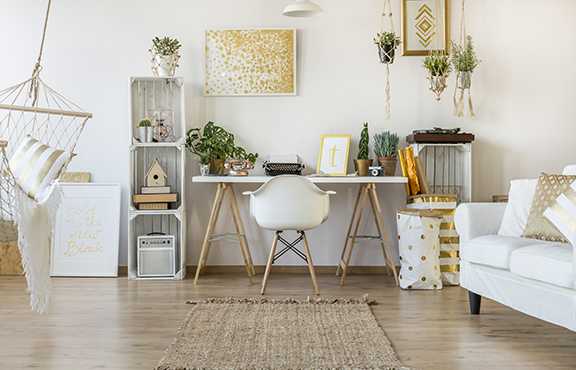 Having some plants in your space can serve (at least) two functions: to make your space more beautiful and inviting and to improve your air quality. Plants make a space more hospitable and healthy. Look for ways to incorporate a little bit more green into your workspace; whether it's a giant cactus in the corner or a tiny air plant on your desk, it's good to be green!
Office Furniture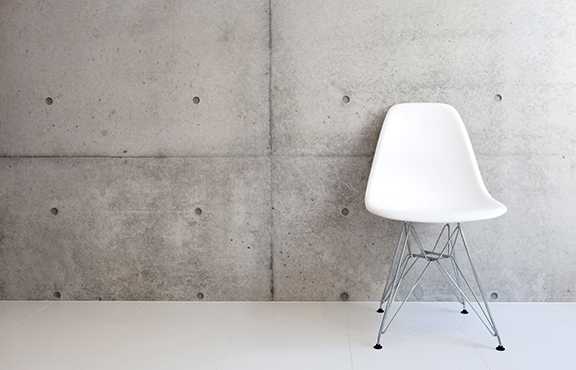 Keeping in mind what we said about beautiful and functional, perhaps your office furniture could use an overhaul. Consider replacing old, worn out swivel chairs with something new and interesting. If you work at home every day, that's all the more reason to invest in a chair that supports your healthy posture while adding value to your office aesthetic. Also, consider that you may want some other furniture to facilitate a place for conversation. A small table and a couple of chairs can be great for times when you are entertaining guests in your office space.
Storage Solutions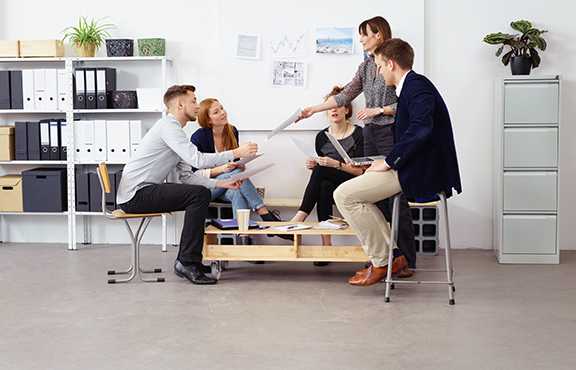 The last thing you want from your home office is a clutter nightmare. Invest in a good scanner and shredder to keep the paper clutter at bay. These days, cloud storage is reliably and affordably making the need for paper less and less. For the items you do need to store, apply the functional and beautiful principles to create a storage solution that works for you. You can coordinate colors and add in plants as well. In doing so, you are giving your storage shelves and items new life so that they aren't just a place to put things–they can become an evolving, integral part of your space.
Lighting Solutions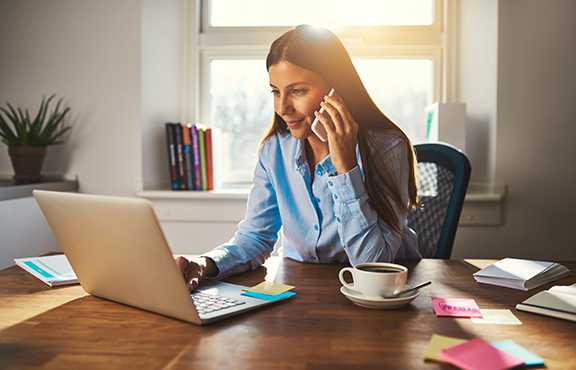 Lighting in any space is integral to its aesthetic and feel. If your space gets good natural light, by all means, use it. Window coverings can help with this as well; sheer curtains can allow light in without totally sacrificing your privacy. If your space has relatively poor natural lighting, opt for some strategically placed lamps and consider wall mirrors to create a brighter effect without having to deal with lower-quality overhead or fluorescent lighting.
In addition to the taking care of your home's inside, make sure you're giving ample attention to its outside. That natural lighting will look much more beautiful with clean windows from Ned Stevens! Put your mind at ease and schedule a pure window washing as an addition to your next gutter cleaning.
Not already a customer? No sweat! Contact us today and get $25 off your first gutter cleaning!