Many homeowners have experienced the following: searching through a drawer filled with discarded junk for that one thing you need. It's a frustrating ordeal. Regardless of your home's size, clutter slowly creeps into your living space after a few years. Either a messy kitchen drawer or an overstuffed closet can cause unnecessary headaches in your day to day. The solution is organization, but that's often easier said than done. Ned Steven is here to help bring a little order to your home. These six tips will get you organized and decluttered.
Put a Lid on It
Food storage containers for leftovers and food prep is a must-have for busy families. As your collection grows, so does the time it takes to find the right lid. Shorten your search time with a well-organized cabinet. A dish rack can help tidy up your cabinet. The individual slots are perfect for organizing lids by size. Another easy hack is labeling each lid and container with the same number or color. By doing so, you eliminate any guessing or unnecessary checking.
Make Your Entryway Work for You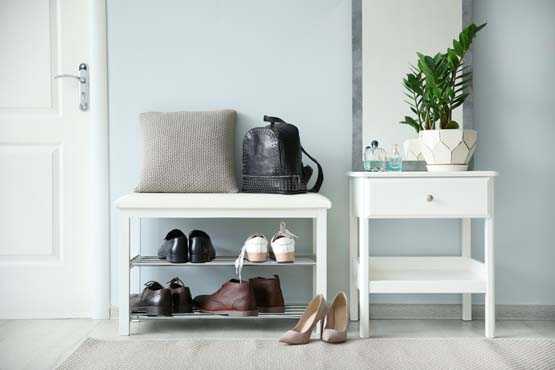 Taking your entryway from overflowing to orderly is simple with a few cheap additions.  Hooks at different heights for each family member gives everyone a chance to help with tidiness (even though your children may still find excuses). Small cubbies along the ground can eliminate the dreaded dirty shoe pile. Finally, decorative baskets for commonly used items (scarves/gloves/etc.) keeps everything nearby but out of sight.
Take Advantage of Uncommon Areas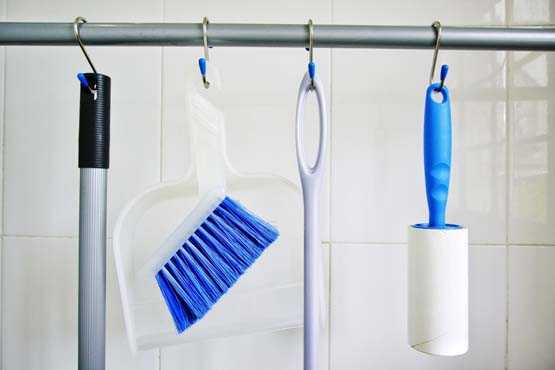 Every home has strange nooks and crannies that feel like a waste of valuable space. With a little ingenuity, these areas can transform into storage for everyday items. Each space's purpose may take some creativity to unlock but once found it's incredibly helpful for organization. For example, the small space between your refrigerator and wall is often left empty. By adding hooks, it becomes the perfect storage area for brooms and mops.
Untangle Your Entertainment System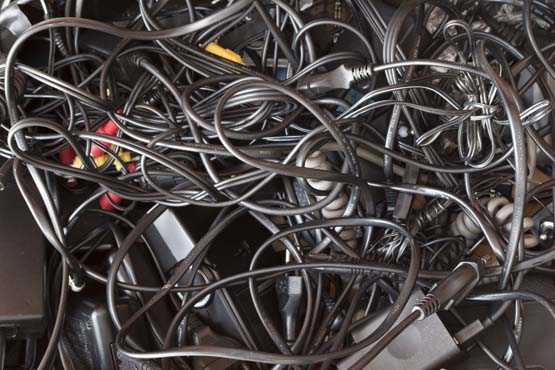 New streaming devices make finding your favorite television shows and movies easier than ever. Unfortunately, every new device is accompanied by a new set of wires dangling from your television. It doesn't take long for your home entertainment system to transform into a knot of wires. Ease any organizational anxiety by using a series of zip ties and flexible tubing. Grouping a device's cables creates a less chaotic appearance. An added perk is it makes troubleshooting any potential technical issues easier.
Purge!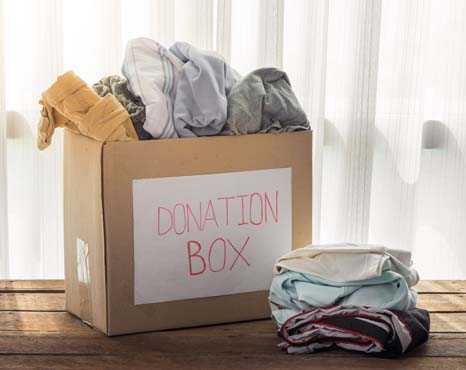 An underrated tip to jumpstart your more organized home is purging. The act of getting rid of unneeded items will free up space and streamline the organizational process. To begin: assign all items into one of four categories; keep, trash, donate, and sell. As you go, you will start to realize how much smaller the "keep" pile is in relation to others. A cluttered home is rarely a symptom of size, but more related to the girth of unnecessary items. Online marketplaces are a great place to sell any items in top conditions (clothing/gadgets/etc.), and donation centers, like Goodwill, are happy to take anything you don't want. Make sure to grab a receipt for a tax credit.  
Invest in Dual Purpose Furniture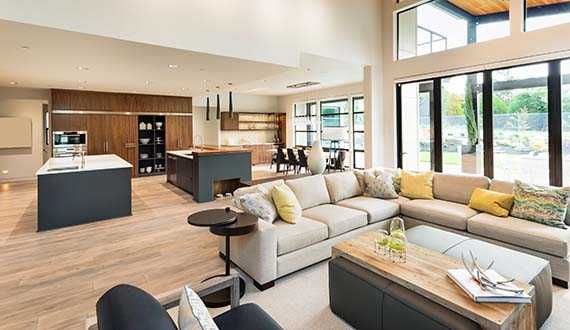 Being organized doesn't mean you have to ignore taste. A tip for a neat home while keeping within your home's décor is adding dual-purpose furniture. These are unassuming pieces that pack an extra punch of additional storage. They can come in the form of couches, mirrors, and hutches.  A Ned Stevens favorite is an ottoman with room to keep extra blankets and pillows off your couch. This tip is particularly useful for those with smaller homes because it's easily movable.
While you enjoy the ease that comes with an organized and decluttered home, make sure your exterior gets some TLC as well. One common problem area is your rain gutters. Once clogged with debris, rain gutters won't properly divert water away from your home. This can create pooling that affects your roof and foundation. All of this can lead to pricey repairs. Let the gutter cleaning experts at Ned Stevens help! With over 50 years of gutter experience, you can rest easy knowing you're receiving quality work.
First-time customer? Call today and receive $25 off your first gutter cleaning.