Everyone loves Halloween. It's the one time of the year where regular people can display the spookier side of their personalities. It doesn't matter if you pick a zombie, a mummy, or a vampire; nothing is off limits.  As the home is often an extension of the homeowner, take this yearly tradition as an opportunity to decorate your home to match the festivities.
If you never tried making your home the creepiest corner of your neighborhood, Ned Stevens is here to help. A few additions to your yard transform any house into a Halloween Scare-fest. Time to light some jack-o-lanterns and spook up your space.
Candy Bowl of Doom!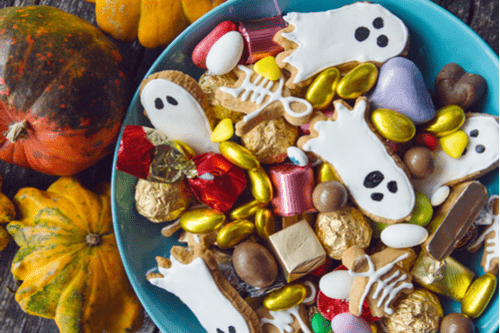 Everyone loves Halloween for the candy. Unfortunately, most don't take advantage of this holiday element as a chance to get crafty. Instead of the classic mixing bowl full of candy, try creating something more original. One option is filling some old clothes full of newspaper and placing the candy bowl in the stomach. Trick-or-treaters are forced to reach into the scarecrow's innards for their candy. A similar idea is digging a hole, placing the candy inside, and adding a nearby gravestone. This DIY decoration is a great way to add more tricks to the treats.  
Ghastly Signage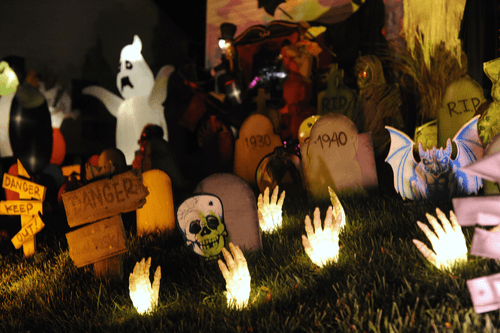 Either store bought or homemade, adding signs to your home is a subtle way to spook up your space. These signs can come in a variety of different styles from a signpost listing the distances of nearby eerie areas to one that quickly transforms your home into an abandoned funeral home. They don't have to be scary in nature. The addition of pun-heavy signage will get a few chuckles from any guests. Also, it helps relax easily frightened children who find the harsher elements of the holiday a bit too scary.
Ghoulish Footprints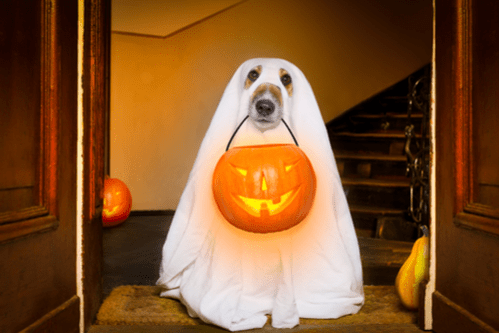 Turn your front porch into a paranormal scene by creating the illusion of ghosts! Set the stage by adding props to your porch such as unsettling dolls or antiques. Then have footprints leading away from it. Achieving the footprints effect is incredibly easy – simply paint the bottom of your feet and recreate the walking path yourself.
Get creative to sell the scare. Footprints leading into walls will make it appear as if the ghost walked right through. If you're worried about getting paint on your property, try laying sheets down to eliminate any potential stains.
Dreadful Shadows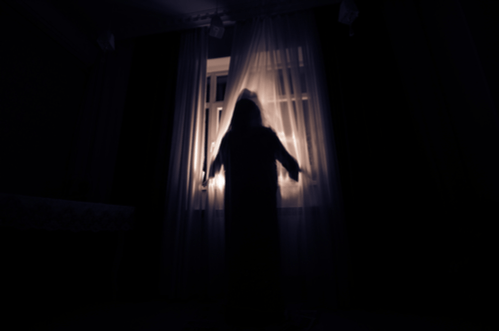 Elaborate spooky scenes will amaze any visitor but are often incredibly expensive to accomplish. A low budget solution can be done with nothing more than cardboard and a spotlight. All you have to do is build large cardboard cutouts, lower the shades, and shine a spotlight on your creations. Try recreating scenes from your favorite horror movie or come up with something entirely original. A shadow scene offers endless possibilities. If the shadow's not crisp, spray painting the cutouts black can help intensify your display.
Glowing Eyes in the Dark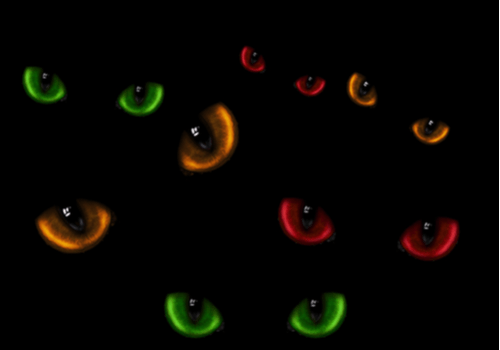 Nothing is scarier than something creeping just out of sight. Create the effect of monsters lurking in your home's bushes or shrubbery with this easy Halloween decoration. All you need is a paper towel tube, glow sticks, and black spray paint. On the length of the tube, cut out menacing eyes. Anything from wolf eyes to monster eyes will work, make sure they are systematic and large. Once finished; spray paint the tube and insert the glow stick.
That's it! Placed in a bush's clearing, you'll have trick-or-treaters believing they're a monster's prey.  
Monster House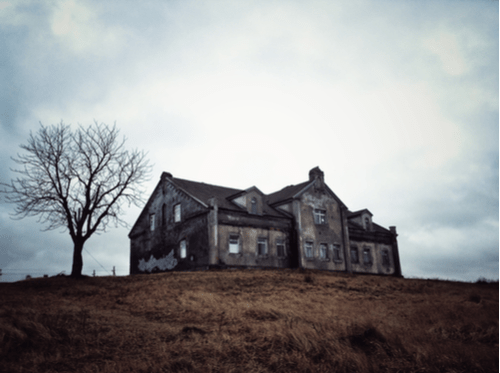 If you ever noticed that your home's façade looks like a face, this next large-scale Halloween decoration may be for you. Turn your entire home into a gigantic, menacing monster with extra elements added to your home's exterior. With eerie eyeballs and intimidating eyebrows, you can transform second story windows into the monster's eyes. The front door works perfectly as a mouth once teeth are added. The secret to creating a well-done monster house is playing with your home's unique layout. For example; if you have a long curving walkway to your front door, turn it into a windy tongue. The more you amplify your home's architecture, the better result will be.
Sometimes real life can be scarier than Halloween, especially when it results in expensive repair bill! Gutters clogged with debris, such as leaves and branches, is one such fearsome homeowning issue. When water can't divert away from your home, damage to your home's roof and foundation can occur.
Save yourself from gutter nightmares with Ned Stevens. Our gutter cleaning professionals will keep your gutters working correctly, leaving you more time to plan your next spooky decoration.
First-time customer? Call Ned Stevens today and receive $25 off your first "gutter screaming."