A chimney cap in the home can raise a lot of questions and concerns. What is the best chimney cap? Is a chimney cap necessary? Will it really protect my home from critters? Will it keep the moisture out? How do I know if I got the right one? Chimney caps offer protection for our homes, but there is one jet setter around making deliveries this season that we certainly don't want to miss.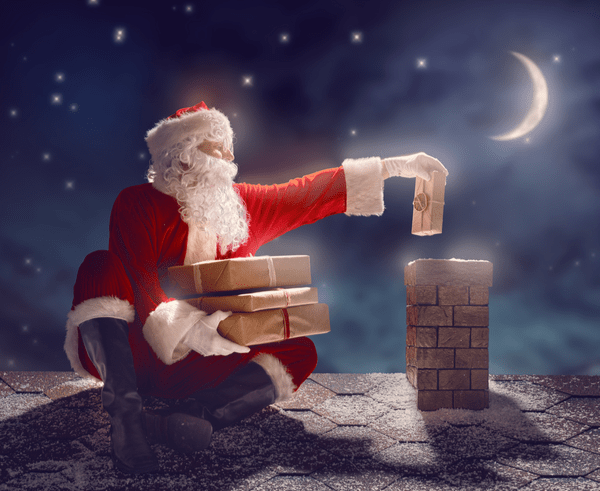 With all these other questions, none other one rings louder than, Can Santa still come to my house?
When we learned the story—and tell the story to our kids—about Santa and his adventures with his reindeer distributing gifts, determining which ones of us are good or bad, no one ever talked about whether or not Santa himself faced the obstacle of the chimney cap. Was a chimney cap even there? If there weren't any chimney caps in the early days, surely Santa must have encountered some throughout all these years.
And yet, he still made it into all the homes to deliver presents. 
Yes, that's the story we're sticking to—for the sake of our children. One day one of them is going to catch the fact that there is something covering up our chimney and ask us about it. We wonder how no one has never addressed this before. Obviously, as the tale is told, Santa never let anything deter him from his mission. Most definitely not a simple chimney cap.
So the question really is: how the heck did Santa deal with that chimney cap?
Here's the thing about chimney caps: they can always be uncapped. Just like they need to be secured onto the chimney, they can always be removed. And Santa is no stranger to handiwork. Who do you think helps train all those elves?
When Santa encounters these chimney caps, he removes them and then replaces them for us so he doesn't leave any destruction behind. Depending on what type of chimney cap it is (single-flue, inside-mount, crown-mount, what have you), Santa performs a different procedure for each case. Before we overanalyze the scenario about how he pulls this off so quickly and quietly, let's just remember he's Santa. He's not one for us to completely understand.
To answer the question in regards to your chimney cap, "Can Santa still come to my house?": Yes. Of course, he can! He's Santa! 
So don't worry about him when choosing your next chimney cap—be sure to purchase the most secure and durable one that will protect your home from unnecessary clutter and other potential damages. At Ned Stevens, we stock top quality chimney caps – and when you have yours installed this year, we can promise you a Santa-friendly installation!
New customer? Get your gutters cleaned as well- get $25 off your first-time gutter cleaning!