It is a well-known fact that many of the cleaners found in stores contain chemicals that could be harmful to our bodies. With ingredients you can't even begin to pronounce, making your own cleaners can become alluring. Add in that you will save money and be eco-friendly by DIY-ing it and you can't say no. Below are a few of our favorite eco-friendly concoctions that will leave your house sparkling and beautiful without the dangers of chemically enhanced products. Plus, they cost just pennies per product. We think that is a pretty good deal.
---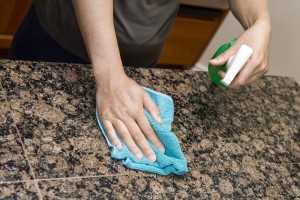 All Purpose Cleaner
Ingredients:
1 tablespoon Borax
1/2 cup vinegar
1 tablespoon hydrogen peroxide
2 cups hot water
Juice of 1 lemon
Spring of rosemary (optional)
Essential oil (optional)
Spray bottle
Combine the Borax and hot water in a bowl and whisk vigorously. Next, add the hydrogen peroxide, vinegar, and lemon juice. Whisk gently. Finally, pour mixture into a spray bottle and add a couple of drop of your favorite essential oil or a sprig of rosemary for scent. If you are sensitive to scents, you can skip the oils. Then you are ready to clean just about everything!
---
Window Cleaner
Ingredients:
1 cup white vinegar
1/4 cup fresh lemon juice
1 cup water
Spray bottle
Combine the water, vinegar and lemon juice. Mix well, and pour into a spray bottle. You can add a slice of lemon, lime or orange for an extra boost of scent.
---
Liquid Laundry Detergent
Ingredients:
1/2 cup Arm & Hammer Super Washing Soda
1/4 cup Borax
1 tablespoon castile soap
1/4 cup distilled white vinegar
1 cup boiling water
Hot water
Essential oils (optional)
Empty gallon jug
Combine washing soda (this is different from baking soda, and you can find it in the laundry aisle) and Borax to a large mixing bowl and whisk gently. Add in boiling water and whisk until dry ingredients dissolve. Slowly add in castile soap then vinegar and mix gently. Add in enough hot water to fill the gallon jug. At this point, you can add your favorite essential oils (vanilla, lavender, lemon, mint) for scent. Pour into a gallon jug, and you are ready to do laundry. About ⅓ cup cleans a large load of clothes.
---
Heavy Duty Kitchen Scrub
Ingredients:
¼ cup baking soda
¼ cup natural dish soap
5 drops essential oil (optional)
3 drops of water (more if needed)
Combine all ingredients in a mixing bowl. Place in the container and you are ready to get down and dirty (or clean) with some kitchen grime. Simply apply to a surface and use the rough side of a double-sided kitchen sponge to scrub. Wipe away with a wet cloth.
---
Liquid Dish Soap
Ingredients:
2 ½ cups boiling water
1 tablespoon Borax
1 tablespoon washing soda
2 tablespoons white distilled vinegar
½ cup liquid castile soap
10 drops essential oils (optional)
Plastic or glass container
Combine Borax, washing soda, liquid castile soap and white vinegar in a mixing bowl. Add combined ingredients to boiling water slowly, whisking gently to incorporate. Add a few drop of your favorite essential oil to personalize the scent of the dish soap. Allow soap to come to room temperature before pouring in plastic or glass container. As it cools, it will thicken. Don't expect tons of suds with this soap.
---
Reusable Dryer Sheets
Ingredients:
Cotton cloths
8 drops essential oil
1/2 cup of vinegar
Sealable container
Cut small sections of the cotton cloths. You can use inexpensive dish towels or even old T-shirts or linens. Next, combine vinegar and your favorite essential oil into a small mixing bowl. Pour mixture over the cloths until they are damp, but not soaked. Place in a seal-tight container. When you are ready to use them, simply remove a sheet, squeeze out excess liquid and toss into the dryer. When the drying cycle is complete, place the sheet back into the container for later use.
---
Citrus Degreaser
Ingredients:
2 cups lemon and orange peels
2 cups white vinegar
1-pint container
Spray bottle
Place lemon and orange peels in a glass one-pint container. Cover with vinegar, seal and place in a cool dark spot for one week. This will create the base for your cleaner. After the week, strain into a spray bottle and use on anything to cut through grease and kill most mold, germs and bacteria. Reuse the peels, covering with them vinegar to make another batch.
---
Clean, happy and healthy! Most of these DIY cleaners can last up to a month or longer in some cases. Did we miss one of your favorite natural cleaners? Please let us know in the comments!