While spring is known as the season of revival and gardening, fall is perfect for starting your new green thumb habit. With warmer ground and more growing days, autumn creates the perfect conditions for planting flowers, grass, vegetables and trees to flourish. So what plants should you plant in the fall?
Pansies

Don't be fooled by the name–pansies are tough. A pansy planted in September can withstand harsh winters since they establish their roots in the still-warm fall soil. As long as they are planted in a well-drained area, pansies will burst with colorful vigor in the spring. The flower's optimal season varies with different climates, so southern regions can wait longer to plant. If you're unsure of recommendations for your area, aim for September.
---
 Kentucky Bluegrass

This grass is resilient and aesthetically pleasing, which makes it extremely popular nationwide. You can seed Kentucky bluegrass earlier than most plants for greater success; it will have more time to take hold in the warm soil. Because it can tolerate cold winters, well-established Kentucky bluegrass makes your lawn stand out in spring. A September seeding with fertilization in late October or early November leads to bluegrass bliss in most locales.
---
 Lettuce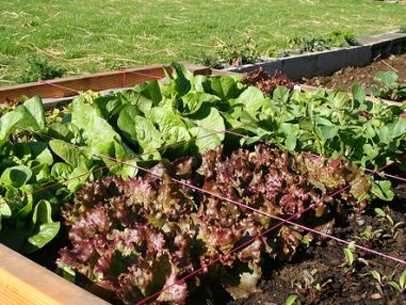 Cooler weather actually produces better tasting lettuce compared to those grown in other seasons. From leafy Romaine to crispy iceberg, lower temperatures provide the ideal environment for crispier, sweeter lettuce. For your best results, plant lettuce about one month before the first frost, and enjoy the taste down the road!
---
 Sugar Maple Tree

The eye-catching leaves and syrupy sweet sap of this tree make it popular in most of the United States. Since it thrives in cooler conditions, fall is the perfect time to plant. Depending on your location, you can plant your tree anytime from September to November before the ground freezes. The roots will take hold and provide you with a colorful tree for years to come.
---
 Hellebores

Known for their longevity and durability, hellebores can add color to your garden for years to come. They include flowers like the lily of the valley and the pasque flower, and they will start to bloom in mid-to-late winter to early spring when planted in the fall. Though it seems odd, a hellebore thrives better in areas with colder winters.  Also, these flowers require little maintenance, as they are highly weather-resistant and poisonous to scavenging animals.
---
 What Not To Plant
Fall is a versatile season for planting, but there are certain plants to leave for the spring. Slow-rooting trees and flowers, such as birch, oak, azalea and magnolia, are best left until spring for proper planting. Nonetheless, you can still transform your yard in fall with flowers, perennials and other vegetables for your best spring garden yet.
What are you planning to plant this fall? Let us know in the comments below, and use our infographic help you plan for year round planting! Just click the button below.