Ned Stevens Moorestown
Service Hours
Open 7 days a week
Mon-Thu: 6AM – 8PM
Friday: 6AM – 7PM
Saturday: 6AM – 5PM
Sunday: 8AM – 4PM
Moorestown
We serve the following zip code in Moorestown: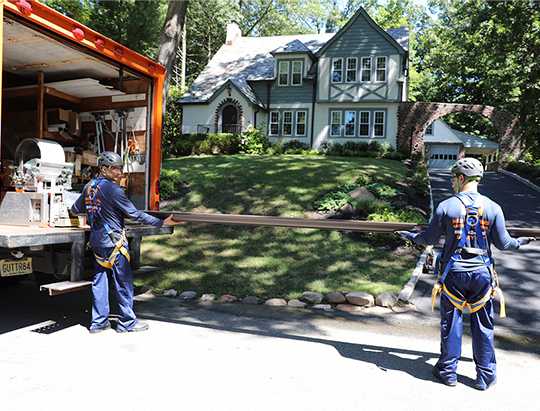 Gutter Repair, Installation, and Cleaning for Moorestown residents
Moorestown homeowners understand that the town's frequent, year-round showers put gutter systems under considerable stress. Moorestown's annual average of 47 inches of rain can do a lot of damage to your home without proper gutter maintenance. Regular gutter cleaning throughout the year is the only way to ensure your gutters operate effectively. Gutter buildup from water, snow, sleet, and debris can impact many different areas of your home, whether water pools on your roof and seeps into your siding, or the weight of debris causes your gutters to break all together, regular gutter cleaning is the best long-term solution for Moorestown homes.
You can trust Ned Stevens' licensed professionals to help defend your home against the harmful effects of weather. Our gutter cleaning experts also offer full gutter repair and replacement services. We'll custom-fit your gutters to fit your home's specifications so that they'll work efficiently and last a long time.
LEARN MORE ABOUT:
HOW CLEANING WORKS
DIY VS. PRO SERVICE
GUTTER GUARDS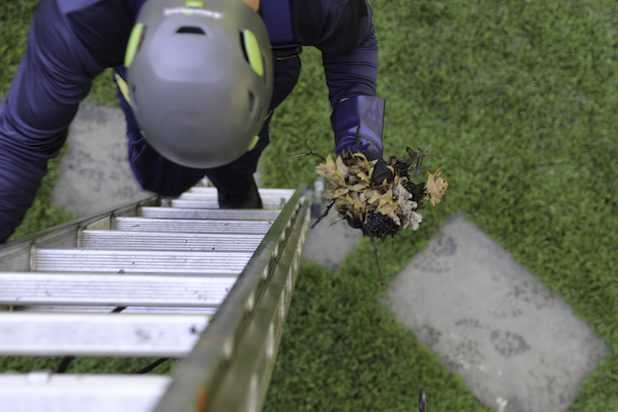 How Gutter Cleaning Works
The gutter cleaning experts at Ned Stevens will inspect your entire gutter system to check for any leaks, damages, or blocks. Once the inspection is complete, the gutter cleaning will begin, using a variety of professional cleaning tools and techniques to remove and repair the gutters, customized to current gutter and weather conditions. This cleaning process can handle all the challenges that impact Moorestown gutters throughout the year — from ice and winter debris in cold months, to foliage during summer storms and the large debris loads deposited during fall — Ned Stevens professionals have the training and tools to handle it all.
Professional Gutter Cleaning vs DIY Gutter Cleaning
There are several key differences between professional vs DIY gutter cleaning. First, undertaking a gutter cleaning project on your own is dangerous. Climbing up the ladder to roof height and balancing while trying to remove heavy debris, dirt, rocks and even ice, poses a serious risk to most homeowners. Secondly, professional equipment and protocols ensure that the job is done right. You don't want to spend all day climbing up and down ladders only to miss some leaves, or not fully remove a blockage, only to find your gutters overflowing the very next storm. You may also not notice issues related to gutter pitch, loose or broken leaders, and miter leaks — all serious problems that require gutter repair. Finally, one of the biggest differences between DIY gutter cleaning and professional gutter cleaning is peace of mind. With professional gutter cleaners like Ned Stevens, you can schedule an entire year of gutter cleaning in just a few minutes. That's it. You don't have to worry about your gutters ever again. Schedule ahead of time and you don't even need to be home during service. Everything is conducted outside so you can truly set up a worry-free gutter cleaning and maintenance schedule.
Gutter Guards vs Gutter Cleaning
Gutter guards have been promoted as a solution for gutter cleaning for many years, but this has been proven time and time again to be inaccurate. Not only do we find ourselves removing countless broken gutter guards from our customer's homes, but we have also tested gutter guards over the years and every single one has failed. 
The main problem is simple: Gutter guards collect debris. Large items stay on top, small items collect inside. This causes an accumulation of dirt and mildew that starts to collect on your roof, and during heavy rains, it causes water to flow over the top of your gutters and spill directly into your foundation. The damage caused by gutter guards is far worse than simply scheduling periodic gutter cleaning services.
ABOUT US
A Gutter Cleaning Company to Trust
Ned Stevens is more than just a gutter installation and cleaning company, we also provide window cleaning, tick and mosquito prevention, and more. Our full spectrum of home exterior cleaning and maintenance services keeps your house looking its best. Skip those dangerous and costly DIY projects and let our friendly experts handle the job, so you can spend more time enjoying your home and less time fixing it up.  
Ned Stevens customers can schedule home maintenance services ahead of time and our professionals will handle the work. Since the work is all done outside you don't even have to be there while we complete the project. Not only do we strive to make our process convenient for you, but having our trained specialists with the proper equipment is the safest way to tackle your home exterior needs. Give us a call at (888) 616-3307 to schedule your service today.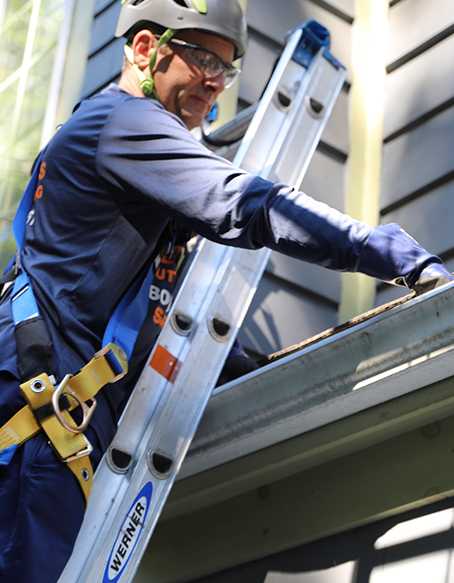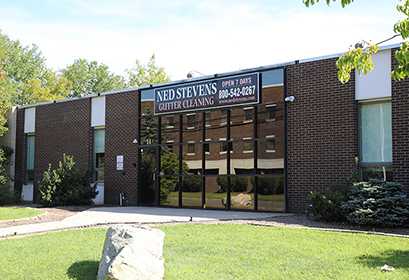 OUR GUARANTEE
We believe in providing the best service possible to our customers across the nation. Because of that belief, all of our work is fully guaranteed. Due to the dangerous nature of our work, we carry full workers compensation as well as liability insurance. After all, our guys and gals are on ladders every day. We want to keep them protected and serving our New Jersey communities year-round.
FREQUENTLY ASKED QUESTIONS
No — we will make your life easy! After you schedule your job, we will appear automatically without further notice for each service scheduled, do a great job, and leave a receipt for you in your door. It's that easy!
We do not recommend screening or gutter guards. Ned Stevens has searched for and experimented with all types of products that claim to prevent gutter clogs for over 50 years. In short, we've found that there's no such thing as a "no clog" gutter. 
We do sell and install gutter screens, but we stopped selling a top-of-the-line solid cover gutter guard. These systems allow debris in the gutters, they allow the water to pour off the top of gutters in heavy rain (which could lead to water in your basement), and they allow clogs. The screens we sell will keep out big debris, but let a significant amount of small debris into the gutters. This debris will cause clogs over time, and can even grow plants in the gutters. As such, even with screens, gutters need to be cleaned regularly.
The solution for gutter clogs is simple: clean the gutters on a regular schedule. You can do this by signing up for one of our ongoing service plans, and you won't worry about your gutters again.
MONDAY – THURSDAY: 6AM – 8PM
FRIDAY: 6AM – 7PM
SATURDAY: 6AM – 5PM
SUNDAY: 8AM – 4PM
We accept Visa, MasterCard, American Express and Discover.
Yes, the Senior Citizen Discount is 5%.
We recommend that you clean your gutters about 6 times per year. Your local weather and proximity to trees & debris will dictate your specific needs, but we typically suggest this recommended schedule:
In March, to re-nail all gutters and clear out the branches, dirt and other winter debris – so that they are ready for the "April Showers"

In June, to clean out all the oak tassels, ragweed, seed pods, "helicopters", and other debris that land all over our properties

In August, to remove wind-blown debris caused by Summer thunderstorms

And then three times in the Fall: October, November, and December, to remove all the clogs caused by leaves that come down throughout the Fall season, before the winter freeze.
Our Service Plans provide the simplest solution for worry-free gutter maintenance, all year long, and come with free benefits!
While it may seem like a more affordable option to clean your gutters on your own, the potential risks simply do not outweigh the savings. You risk serious injuries and might not own the proper equipment or experience. You could also damage your gutters, gutter pitch, or the roof and end up paying even more in costly repairs. Professional gutter cleaners have the experience and equipment to get the job done safely and efficiently, so you can rest assured that your gutters will be clean and functioning correctly. In the end, hiring a professional gutter cleaner is the best option for your home.
Properly pitched gutters and leaders gather that water and channel it away from the home. Doing so prevents water penetration into the home and its foundation. For this reason, Consumer Reports magazine claims that "runaway rainwater" is the "#1 Home Repair That You Should Not Ignore."
Because of how important a properly flowing gutter system is to your home, you must keep them clean, all year round. If you don't, rainwater can seep into your home's roof, siding, and even its foundation. Water damage to these parts of your home can result in costly repairs. Simply cleaning your gutters prevents these expensive projects and keeps water flowing away from your home.
Jun, 02 2023
Your gutters play a vital role in protecting your home against water damage. The purpose of your gutters is to keep water flowing properly, moving away from your home and into a designated area. When your gutters have seen better days, it's a good time to perform a gutter installation in order to prevent water […] read more...