Ned Stevens Alpharetta
Headquarters
Ned Stevens Gutter Cleaning
4819 Buford Hwy, Bldg 1,
Norcross, GA 30071
Service Hours
Open 7 days a week
Mon thru Thu: 6AM – 8PM
Fri and Sat : 6AM – 5PM
Sunday: 8AM – 4PM
Alpharetta
Some of the zip codes we service in Alpharetta
30004

30005

30009

30022

30076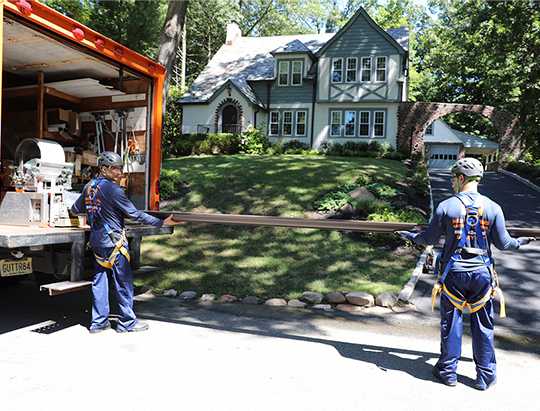 Top Rated Gutter Cleaning Professionals in Alpharetta
Alpharetta, Georgia is known for its historic downtown district, Brew Moon Fest, and legendary farmer's market. Ned Stevens feels honored to be serving such an established and notable Atlanta suburb. As a family owned company with an A+ rating from the Better Business Bureau, we're dedicated to providing top-notch quality gutter cleaning to the thriving community of Alpharetta. 
Why is gutter cleaning so important? Clogged gutters can cause a dangerous build up of water and debris that leads to long term water damage to your home's foundation and roof. Keeping your gutters regularly cleaned and maintained is necessary to prevent this damage, as each Georgia season poses a unique problem for your gutter system. Setting a simple schedule for regular gutter cleaning throughout the year is the simplest and safest way to preserve your Alpharetta home and keep your gutter system operating smoothly.  
Every Gutter Cleaning Job is Important 
We consider ourselves experts in all aspects of home maintenance and never look at a job as too small or too large for our team. At the end of the day, our core mission is to help preserve your home, and that means assisting from the roof to the yard, and everything in between. Alpharetta residents can explore our service packages, which may help you plan a year's worth of home maintenance, especially considering the 50+ inches of rain the city gets each year.
ABOUT US
Full Alpharetta Gutter Services and Home Maintenance
We like to consider ourselves partners with residents in each community we serve. This is how we feel about Alpharetta. As an Alpharetta resident, you can look forward to Ned Stevens sending professional, licensed, and friendly experts to your home. Our experts are insured, and happy to assist with any robust, difficult, or dangerous work that might be plaguing your property. Even more, we don't just offer gutter installation and cleaning services, but can be a one-stop shop for all of your home maintenance needs. 
Reach out today online or by phone to get a quote for gutter cleaning and home maintenance services.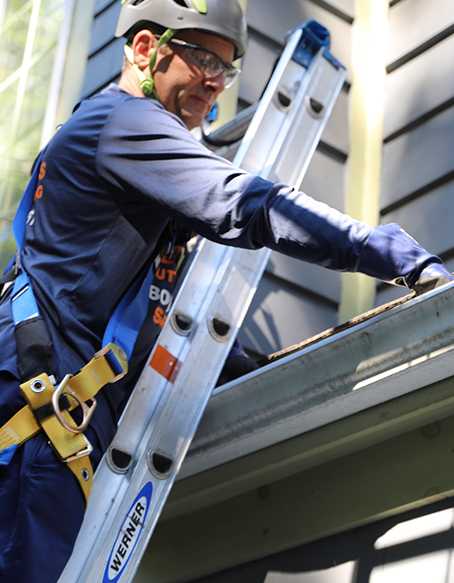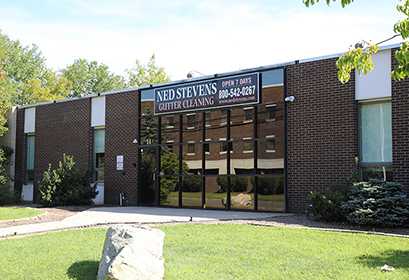 OUR GUARANTEE
We believe in providing the best service possible to our customers across the nation. Because of that belief, all of our work is fully guaranteed. Due to the dangerous nature of our work, we carry full workers compensation as well as liability insurance. After all, our guys and gals are on ladders every day. We want to keep them protected and serving our Alpharetta communities year-round.
FREQUENTLY ASKED QUESTIONS
No — we will make your life easy! After you schedule your job, we will appear automatically without further notice for each service scheduled, do a great job, and leave a receipt for you in your door. It's that easy!
For more than 50 years we have been searching for and experimenting with all types of products which can be sold to home owners to prevent gutter clogs. We currently sell and install gutter screens, but we stopped selling a top-of-the-line solid cover gutter guard.
We stopped selling covered guard systems because we have learned the hard way that there is no such thing as a "no clog" gutter.  Quite simply, these systems allow debris in the gutters, they allow the water to pour off the top of gutters in heavy rain (which could lead to water in your basement), and they allow clogs.  Most companies push the sale of these expensive products, but we feel we are the honest company that tells the truth:  these systems simply don't work.
Make sure to look at the Gutter Guard section of our website and the many photos there showing how guards simply don't work. The photos will show how good the gutters may look from the outside, but how dirty and badly clogged they are inside.
The screens we sell will keep out big debris, but let a significant amount of small debris into the gutters. This debris will cause clogs over time, and can even grow plants in the gutters. As such, even with screens, gutters need to be cleaned regularly.
The solution for you is easy:  simply clean the gutters on a regular schedule.  Join our Diamond Service Plan and Gutter Protection Program, and you won't worry about your gutters again.
MONDAY-THURSDAY: 6AM-8PM
FRIDAY-SATURDAY: 6AM-5PM
SUNDAY: 8AM-4PM
We accept Visa, MasterCard, American Express and Discover.
Yes, the Senior Citizen Discount is 5%.
To protect your home and keep it safe from water penetration, it is crucial to clean your gutters on a regular basis. Throughout the course of a calendar year, we recommend that homeowners clean their gutters in March to re-nail all gutters and clear out the branches, dirt and other winter debris so that they are ready for the "April Showers"; in June to clean out all the oak tassels, ragweed, seed pods, "helicopters", and other debris that land all over our properties; in August to remove wind-blown debris caused by Summer thunderstorms; and then three times in the Fall: October, November, and December, to remove all the clogs caused by leaves that come down throughout the Fall season, before the winter freeze.
Our Service Plans provide the simplest solution for worry-free gutter maintenance, all year long, and come with free benefits!
A home with a 1,500-square-foot roof sheds 1,000 gallons of water for every inch of falling rain. Properly pitched gutters and leaders gather that water and channel it away from the home. Doing so prevents water penetration into the home and its foundation.
For this reason, Consumer Reports magazine claims that "runaway rainwater" is the "#1 Home Repair That You Should Not Ignore."
Because of how important a properly flowing gutter system is to your home, you must keep them clean, all year round. The best and least expensive method to do so is through one of our great Service Plans.
Remember, the debris is falling 365 days a year. Make sure your gutters function properly to protect your home every day!
Jan, 11 2022
Gutter guards as a whole, whether foam or any other material, can cause serious problems with your gutter system. The ineffectiveness of these products can lead to unnecessary headache and stress for homeowners. Foam gutter guards are particularly problematic. Although they are often advertised as durable, cost-effective, and easy-to-use — foam gutter guards have some […] read more...